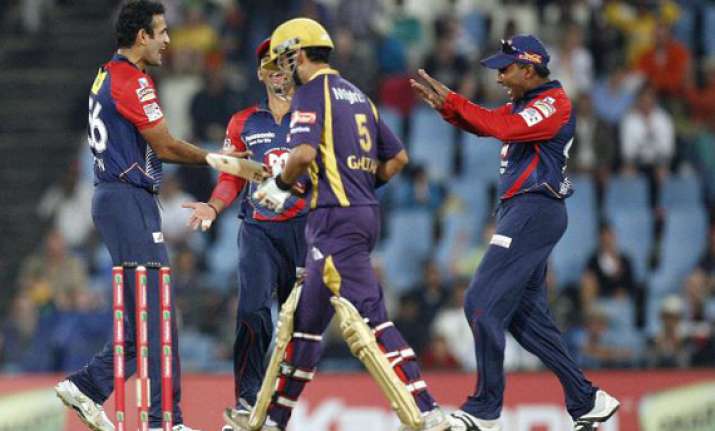 Centurion, Oct 14: Delhi Daredevils beat Kolkata Knight Riders by 52 runs in its opening Champions League Twenty20 match here on Saturday.
The Daredevils' seamers bowled with fire and purpose to restrict a struggling Knight Riders to 108 in its 20 overs. Earlier, young Unmukt Chand and Ross Taylor played fine cameos as Daredevils posted a competitive 160 for eight.
Most of the Daredevils big guns could not come up with a big score with only Chand (40) and Taylor (36) contributing substantially after being sent into bat at a Centurion pitch which had something both for pacers and spinners.
Except for the 64-run stand for the fourth wicket in 64 balls between Chand and Taylor, there was no substantial partnership for the Daredevils. The score would have been much smaller had not L. Balaji yielded 30 runs in the 17th over.
Chand, who timed the ball superbly throughout his innings, hit four fours and two sixes from the 27 balls he faced. Taylor struck one four and two sixes in his 24-ball innings.
Off-spinner Sunil Narine was the pick of the KKR bowlers as he grabbed three wickets for 21. Balaji was expensive as he conceded 61 runs for two wickets while Brett Lee and Jacques Kallis chipped in with one wicket each.
Daredevils did began well with Virender Sehwag (22) and captain Mahela Jayawardene (21) putting on 36 runs in 5.1 overs but later on lost wickets regularly before regaining ground towards the close to post a decent score.
The second over bowled by Balaji yielded 11 runs with Sehwag and Jayawardene hitting a four each. Lee got the bounce but was carted for two fours by Jayawardene in his second over and KKR's third.
Narine got the breakthrough with his first ball, removing Jayawardene with a fullish off-break which disturbed the timbers.
Kevin Pietersen had a lucky escape in the third ball he faced off Narine as the ball struck wicketkeeper Bisla's wrist after taking the thick edge of the batsman.
Pietersen was again dropped soon after, when on 11, as Bisla allowed to let the ball slip from his hands.
The pressure apparently worked as Sehwag was dismissed by Pradeep Sangwan in the ninth over with the batsman getting a nick and Bisla not making a mistake this time.
Next over, Pietersen's charmed life ended as his holed out to Narine at deep midwicket. Daredevils were 64 for three at the halfway mark.
India under 19 World Cup-winning captain Chand and Taylor steadied the innings before the New Zealander was out in the 17th over.
Chand was out in the 18th over with Narine snaring him.
The scores: Delhi Daredevils: M. Jayawardene b Narine 21, V. Sehwag c Bisla b Sangwan 22, K. Pietersen c Narine b Lee 14, U. Chand b Narine 40, R. Taylor c Bhatia b Balaji 36, Irfan (not out) 7, N. Ojha c Pathan b Narine 0, P. Negi c McCullum b Kallis 1, A. Agarkar c Narine b Balaji 8; Extras: (b-4, lb-2, w-4, nb-1) 11; Total: (for eight wkts in 20 overs) 160.
Fall of wickets: 1-36, 2-58, 3-64, 4-127, 5-145, 6-145, 7-147.
Kolkata Knight Riders bowling: Lee 4-0-19-1, Balaji 4-0-61-2, Kallis 4-0-25-1, Narine 4-0-21-3, Sangwan 3-0-22-1, Bhatia 1-0-6-0.
Kolkata Knight Riders: M. Bisla lbw b Irfan 1, G. Gambhir c Pietersen b Irfan 0, B. McCullum c Chand b M. Morkel 0, J. Kallis (retd hurt) 0, M. Tiwary c & b Agarkar 33, Yusuf b Yadav 11, R. Bhatia c Ojha b M. Morkel 26, B. lee b Umesh 13, P. Sangwan (not out) 12, S. Narine (not out) 1; Extras (b-1, lb-6, w-3, nb-1) 11; Total (for seven wickets in 20 overs) 108.
Fall of wickets: 1-1, 2-3, 3-3, 3-4, 4-24, 5-71, 6-82, 7-105.
Delhi Daredevils bowling: Irfan 4-0-19-2, M. Morkel 4-1-25-2, Umesh 4-0-13-2, Agarkar 4-0-21-1, Negi 4-0-18-0.