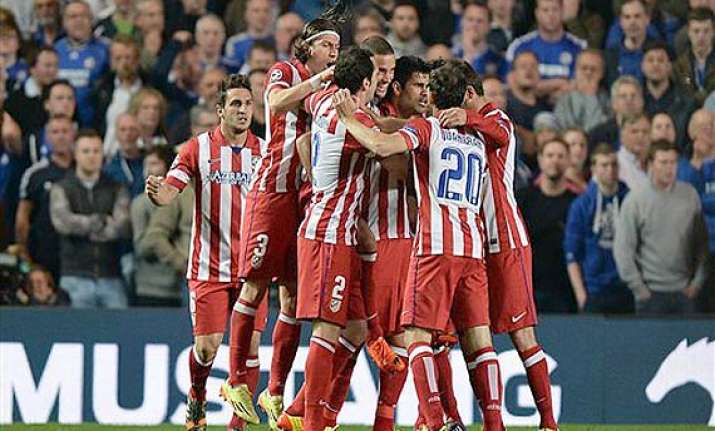 MADRID : Madrid is celebrating the success of its two major football clubs after Atletico Madrid ensured a historic Champions League final derby against crosstown rival Real Madrid.
Atletico's 3-1 victory at Chelsea saw it progress to its first European Cup final in 40 years, where record champion Madrid awaits after crushing titleholder Bayern Munich 5-0 over two legs.   
Atletico is on the verge of an historic double as it closes in on its first Spanish league title in 18 years, while Madrid is chasing a treble after winning the Copa del Rey against Barcelona.   
The feat is all the more impressive for Atletico, which under coach Diego Simeone has completely turned from a club with a history for underachieving and late collapses into a European heavyweight.   
"Atletico is a real team," Chelsea manager Jose Mourinho said after Wednesday's defeat. "It knows how to be strong in defense and when to come out and attack. It's a great team."   
One year after an all-German Champions League final, the continent's top competition has its first ever final between clubs from the same city.   
"I'm happy that it's an all-Spanish final," Atletico playmaker Koke said of the May 24 date in Lisbon. "It's going to be a special day, a very nice day because all of Madrid will be in Lisbon."   
The final will also highlight the teams' different philosophies and history.   
Atletico's blue-collar base is far removed from Real's home in the northwest Chamartin area with its leafy avenues, luxury homes, and expensive cars.   
Madrid is the record 32-time Spanish champion with nine European Cups, and record revenues that are nearly five times that of Atletico allow it to pay for Ballon d'Or recipient Cristiano Ronaldo and world-record 100 million euros signing Gareth Bale.   
Atletico's payroll is a fraction of Madrid's or Barcelona's, and it is a club with a history of dubious finances.   
Yet Simeone, who was on the team that won the league-cup double in 1996, has nurtured a winning culture from a squad that has changed little since his arrival more than two years ago, and despite the sale of star striker Radamel Falcao in the offseason.   
"It's crazy to think we're in the Champions League final," Atletico midfielder Tiago Mendes said. "But this team deserves it after everything it has accomplished."   
Madrid and Atletico have met just once before in the competition, in the 1959 semifinals, where Madrid won a replay 2-1 when their two-leg series finished 2-2. Atletico's only final appearance in 1974 saw it succumb to Bayern Munich 4-0 in a replay following a 1-1 draw.   
While Madrid beat Atletico en route to this season's domestic cup trophy, Atletico still enjoyed a breakthrough year against its city neighbor, which is returning to the final for the first time since 2002.   
Atletico beat Madrid in the Copa del Rey final last season for its first win over its city rival in 25 games. It followed that up with a league victory at the Santiago Bernabeu Stadium followed by a draw at home at the Vicente Calderon.   
Spanish leader Atletico is six points ahead of Madrid, which has one game in hand, with three left to play, while Barcelona trails the Spanish leader by four points.   
The league has been dominated by Madrid and Barcelona since Valencia was the last club besides the big two to win the championship in 2004. But Atletico could clinch its first title since 1996 with a victory against Levante on Sunday if both Madrid and Barcelona lose their games.   
The all-Spanish final also proves the domestic league is healthy despite continued economic problems. Either Sevilla or Valencia will also advance to the Europa League final.   
Even the city's cleanup crews should have an easy time coordinating their work following the victor's celebrations.   
Madrid traditionally celebrates its triumphs at Plaza de Cibeles, while Atletico's fans gather just down the street at Plaza de Neptuno.   
"This is the final all Madridistas have been waiting for," Madrid fan Jose Luis Marron Rodriguez said. "Whatever the result, the European Cup stays at home. Now, let the best team win -- I just hope it's Madrid."