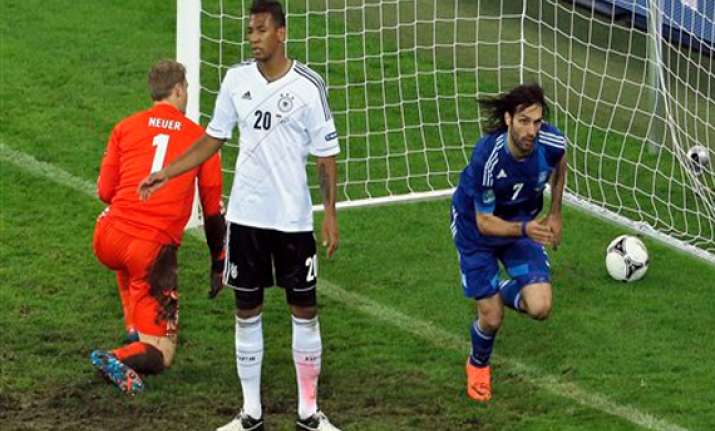 Poland, Jun 23:
  Dreams of another improbable success for Greece were abruptly ended by Germany at Euro 2012.
Still, the players, coach and fans were pleased with the fight they put up against formidable opponents, and at least giving their crisis-hit country two goals to celebrate in Friday's 4-2 defeat in the quarterfinals.
Stand-in captain Costas Katsouranis said he was proud of the way his team played. The Greeks had already caused one upset at the European Championship by beating Russia to reach the knockout stages.
This time, there were no surprises at the final whistle.
"We came up against the favorite of this tournament, Germany. They played at a higher level," said Katsouranis, a veteran of the winning Greek side at the 2004 European Championship.
"We took them on. I am proud to have been their captain tonight. We have a young team and have a good future in front of them."
The Greek squad arrived in Poland for the 2012 tournament with their country in serious crisis—threatened with an exit from the euro amid political and financial crisis.
But fears that a sporting confrontation between crisis-hit Greece and lead rescue-creditor Germany could turn ugly proved unfounded.
Fan rivalry remained generally good natured, and at the end of the match Greece's players and fans lingered at Arena Gdansk to thank each other.
"It was great that we got here. I hope we made people back home happy," said defender Giorgos Tzavellas, who ignored a minor muscle injury to make the starting line up.
"Tonight our counterattacks didn't work. And conceding the goal before half time, pushed us back. We couldn't make up the gap. But we all fought and we should be proud."
Greece missed its hardworking captain, Giorgos Karagounis: his players in the first half were overwhelmed by the attacking Germans and unable to create the space he normally provides.
Coach Fernando Santos, however, had no complaints.
"What we take away from the tournament is that we played with heart and soul here—the passion. We'll need to work on some of our weaknesses in friendlies and training so that we can sort them out before the (2014) World Cup Qualifiers," he said.
"We've always said that Spain and Germany were the favorites. We took on one of those teams, but it didn't work out. The Germans have truly great players, and equally excellent players in reserve. If you'd said before the game that we'd get two goals against Germany I wouldn't have believed it.
For dogged midfielder Yiannis Maniatis, Friday's loss provided some good news.
His wedding, planned by his fiance a year ago, is scheduled for July 1, the day of the Euro 2012 final.
"We did what we could," he said smiling, with Katsouranis' arm draped over his shoulder. "OK, yes, I can get married on time now."