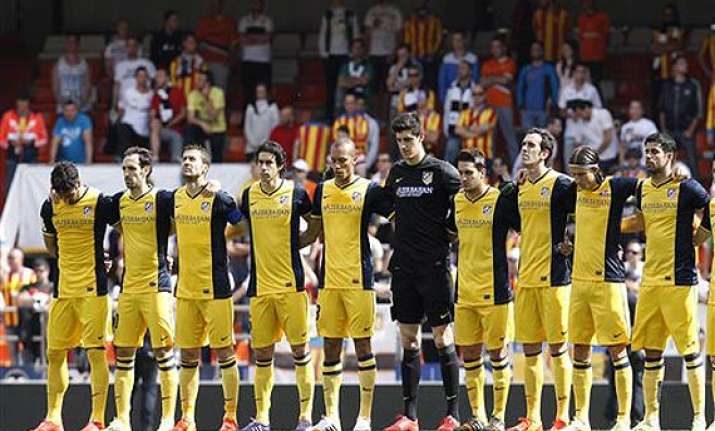 MADRID: For Spain's working class suffering through what feels like never-ending economic recession, Atletico Madrid's stunning season offers an uplifting example of beating the odds, with the Spanish title and Champions League final both within its reach.
The club rooted in blue-collar Madrid is looking down on rich neighbor Real Madrid and defending champion Barcelona from atop the Spanish league standings for the first time in 18 years. It beat Valencia 1-0 on Sunday to move six points clear of Real Madrid.   
Win two of its last three games, and Atletico is champion for the first time since 1996. Spain was a more optimistic place the last time it lifted the league trophy, with an economy heading for boom times before the more recent bust and now record unemployment. 
Part of Atletico's appeal is that it has achieved so much with a squad worth a fraction of Madrid and Barcelona's collections of more famous stars. Neutrals across the country are in Atletico's corner, hopeful that Diego Simeone's team can break the monotony of a duopoly that has strangled the Spanish league since Valencia was the last team apart from Barcelona or Madrid to win the championship a decade ago.   
"This is Atletico Madrid and that's what we're about: work, work, work, heart. We never give up," Simeone said during the Champions League quarterfinal series triumph over Barcelona. "The people of Atletico Madrid are no doubt proud of how we have competed."   
Atletico and "the people" are intertwined, with the club's Vicente Calderon Stadium built over an unattractive highway in the middle of the industrial but revitalizing Arguanzela neighborhood, south of the Spanish capital's world-renowned museums and tourist attractions.   
"It's the working man's team," Atletico captain Gabi Fernandez said in a magazine interview. "We're changing the story through our commitment to giving people what they want: A team they can feel proud of, that win or lose they'll say, `Damn, this is my Atletico."'   
Atletico was founded in 1903 by Basque students setting up a Madrid branch of the Athletic Bilbao club. Its standout qualities of passion, hard work and self-belief have over the years been canceled out by dramatic collapses, disorganization and disappointment.   
Names such as Luis Aragones, Hugo Sanchez, Fernando Torres, Christian Vieri and Diego Forlan made their marks on the club. But so, too, did construction magnate Jesus Gil, the former president who was embroiled in embezzlement charges and jailed after one of his buildings collapsed, killing 58 people.   
The club owes the Spanish government millions in back taxes. It also has endured six seasons in the second division, most recently from 2000-02.   
The club's flare for dramatics is partly what makes Atletico's story so human. Despite its ups and downs, it has always succeeded in winning trophies. And since the return of former player Simeone, it is taking on and often beating Europe's elite.   
Simeone played for the last championship-winning team. The Argentine coach has instilled defensive discipline in a squad that was prone to late collapses. Creative midfielders Koke and Arda Turan provide for striker Diego Costa, who already has 35 goals this season.   
The past four seasons have seen Atletico win five trophies, including a pair of Europa League titles -- one trophy more than Real Madrid over that same period. Ending a 17-year wait, Atletico also finally beat its crosstown rival last May, in the Copa del Rey final.   
Atletico is on the verge of a place in the Champions League final after reaching the semifinals of Europe's top competition for the first time since 1974, with everything to play for on Wednesday at Chelsea in the second leg following a scoreless draw in the first leg.   
Not bad for a team nicknamed "Los Colchoneros" -- "mattress makers" -- with its red and white strip resembling a traditional pattern for Spanish bedding.   
"If we win it's because we've deserved it, not because we have some `galacticos,"' Gabi told Panenka Magazine, referring to Madrid's history of breaking transfer records to sign players such as Cristiano Ronaldo, Zinedine Zidane, David Beckham or Gareth Bale.   
"When I was young and was asked what I wanted to be when I grew up I didn't say a football player but a football player for Atleti. I'm living the dream of all of our fans, which is nothing less than to be playing for the team you love."