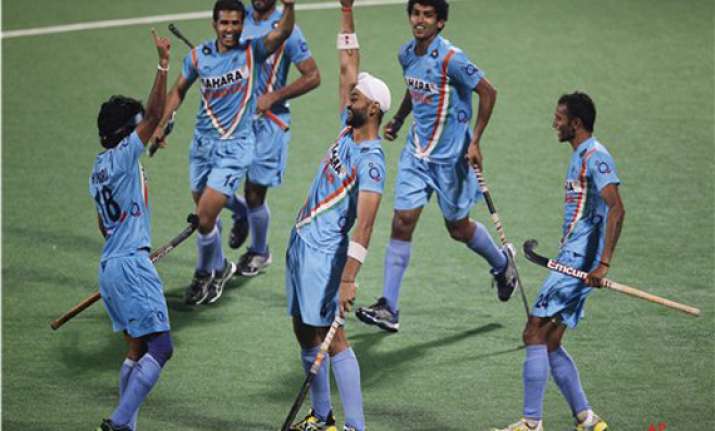 New Delhi, Feb 23 : Virtually assured of a place in the final, favourites India will leave nothing to chance and would aim to carry on their unbeaten run against lower-ranked Poland in their last round-robin match of the men's hockey Olympic qualifiers here tomorrow.

With four wins out of four matches, India are more or less through to the summit clash of the tournament unless some surprising results in the last round of games hurt their cause.
A draw in the final match against Poland on Friday would be enough for the hosts to secure their place in the title clash.

But the Indians can't afford to take Poland lightly as a loss can jeopardise their London dreams.
The men's pool in the tournament is still wide open going into the last round of matches as apart from India, Poland, France and Canada also have bright chances of making it to Sunday's final.

While India is slightly better placed than their opponents in the pool and need just a draw in their last match to seal a final berth, Poland would be looking for an outright win to avoid mathematical calculations.

Both Poland and France have nine points each and are ahead of the 14th-ranked Canadians in the points tally.Despite two wins and two defeats from four matches, the 14th-ranked Canadians are still in the fray for a place in the final. They will now have to beat France in their last match and hope India beat Poland.

On rankings and skill, India (10th) are way ahead of the 19th-ranked Polish team but going into the match the 2000 Sydney Olympics encounter between the two sides will be still fresh in the home team's mind.