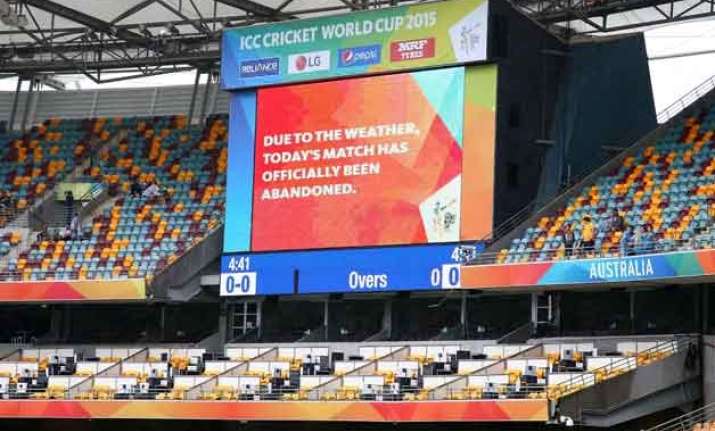 Brisbane: Australia and Bangladesh split the competition points after heavy rain forced Cricket World Cup organizers to abandon the Pool A match in Brisbane on Saturday.
A cyclone which crossed the coast north of Brisbane on Friday caused heavy rain for two days. Organizers finally decided to cancel the match at 4:45 p.m. local time, more than three hours after the scheduled start.
Four-time champion Australia, which opened the tournament with a 111-run win over England, will next play co-host New Zealand in Auckland next weekend.
The Australians will have had only one match in two weeks by that stage. The New Zealanders had three wins in the first week of the tournament, including a massive, eight-wicket win over England in Wellington on Friday.
"It was obviously disappointing not to get out there today," Australia batsman Steve Smith said. "It's a place that we play really well ... at the Gabba."
"We'll take the point (and) hopefully continue to play some good cricket throughout the tournament."
It was Australia's only match scheduled in Brisbane during the World Cup.
The point was a good result for Bangladesh, which had only beaten Australia once in 19 previous one-day internationals — an upset in Cardiff in 2005.
New Zealand leads the group with six points, from its wins over Sri Lanka, Scotland and England. Australia and Bangladesh, which opened with a 105-run win over tournament newcomer Afghanistan on Wednesday, are level on three points.
Bangladesh captain Mashrafe Mortaza said the washout in Brisbane could have an impact on the quarterfinal calculations, with only four of the seven teams advancing from each pool.
"The point would help everyone, not only us," he said. "It's very disappointing not to play cricket at the Gabba (but) you can't do anything with rain. You have to accept it and look forward to the next match. A point is very important."
Bangladesh will play 1996 champion Sri Lanka in Melbourne on Thursday.
The category-5 Cyclone Marcia caused widespread damage when it crossed landfall about 600 kilometers (400 miles) north of Brisbane, but started to lose intensity quickly and was downgraded as it tracked down the coast.
The match had been expected to be venue for skipper Michael Clarke's return to the Australian lineup for the first time since surgery on his right hamstring in December. The Australians didn't announce a starting lineup, meaning speculation over who will lose their spot to accommodate Clarke's return will likely continue all week.