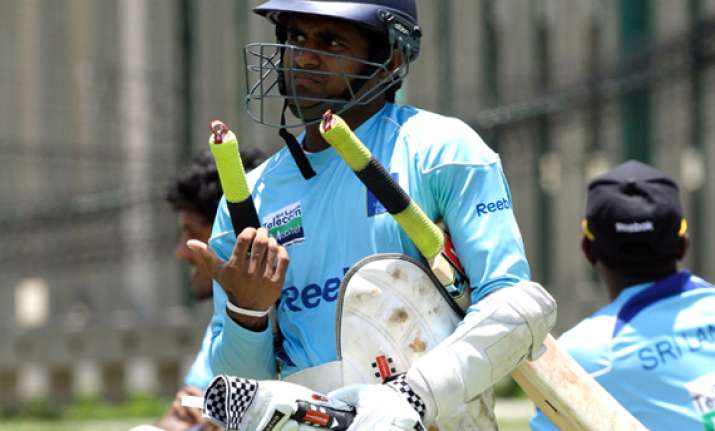 Johannesburg, Dec 13: Unpaid for nine months, without a test series win in over two years and now hit by injury, Sri Lanka's cricket team has a list of problems to overcome in its search for an elusive success in South Africa.

Sri Lanka has never won a test in its three previous series here and probably arrived for this three-match tour in worse shape than ever.

Captain Tillakaratne Dilshan has said going without salaries for much of this year has not affected the players, but Sri Lanka's form since the national cricket body's financial problems spilled over to the team tells a different story.

Since it played in the final of the World Cup in early April, and the salaries stopped, Sri Lanka has lost three straight test series and three out of four one-day international series.

It last won a test in 2010 in Muttiah Muralitharan's farewell and has gone 14 without a win.

On the eve of Sri Lanka's first series here since 2002, Nuwan Pradeep was ruled out of the tour having managed just 1.4 overs in a warmup match over the weekend to continue a miserable run of injuries to fast bowlers.

Suranga Lakmal, Shaminda Eranga, Nuwan Kulasekara and Dhammika Prasad were also unavailable for the tourists, who face familiar struggles in unfamiliar conditions in pace-friendly South Africa.

Sri Lanka has lost six of seven tests in the country, with one draw.

"We have to get used to the conditions as soon as possible. We are carrying a few young players and it's not easy coming to South Africa, especially as they have been playing good cricket," Dilshan said, accepting Sri Lanka's status as rank outsiders. "We can't do any mistakes here. They are a good team."

On its first test tour to South Africa in nine years, surprise could be Sri Lanka's best hope.

"It's difficult to say what their weaknesses are when you don't know a team that well," said South Africa vice captain AB de Villiers. "You don't know what to expect."

South Africa's recent inability to win at home also could provide a small source of optimism for Sri Lanka's unpaid and out-of-form players.

South Africa let winning positions slip in draws with Australia, India and England in its last three home series, and last won a series on home soil in 2008 against Bangladesh.

Having failed to close out victory against high-profile opposition, the Proteas are clearly uneasy over an unknown Sri Lanka, which last visited when South Africa coach Gary Kirsten was still playing with a different generation of South Africans. The teams met most recently in Sri Lanka in 2006.

"Obviously the most important thing for us is to respect them and play them like they're the No. 1 team in the world—which they're not," De Villiers said.

"You can say they're thin in both departments (batting and bowling), but I won't know that because we haven't played them (for so long). We will try and focus on some of their weaknesses, although we don't know what they are yet. But after analysis I'm pretty sure we'll have a good idea."

South Africa saw no reason for major change after last month's 1-1 draw with Australia, with fast bowler Marchant de Lange the only new face in the squad for the first test at Centurion starting on Thursday. Batsman Alviro Petersen also was recalled.

Sri Lanka's squad—almost all of whom lack experience of South African conditions—will rely heavily on former captains Kumar Sangakkara and Mahela Jayawardene, who played in the last test between the teams in South Africa. That was also at Centurion, nearly a decade ago.

"They (Jayawardene and Sangakkara) are experienced guys," Dilshan said. "We have Mahela close to 10,000 runs, Kumar 9,000 runs. Those are the experienced guys in the camp and two of the most experienced guys in world cricket.

"Around Mahela and Sanga we can bat."

South Africa would have to study video of legspinner and dangerman Ajantha Mendis, De Villiers said, having had little exposure to him, but still backed itself to end a three-year run of near misses at home.

"I don't think we've played poor cricket in the last few years. I do think we've played the massive and important situations not too well," De Villiers said. "If we get a good cricket wicket and we play good cricket, they (Sri Lanka) are not going to be able to stop us."

In a series of unknowns for both teams, the reaction to finally being paid could provide an unaccounted for boost for the Sri Lankans. Sri Lanka Cricket has promised its players a long-awaited first pay check since the World Cup this week.

The teams also play tests in Durban from Dec. 26 and Cape Town from Jan. 3.