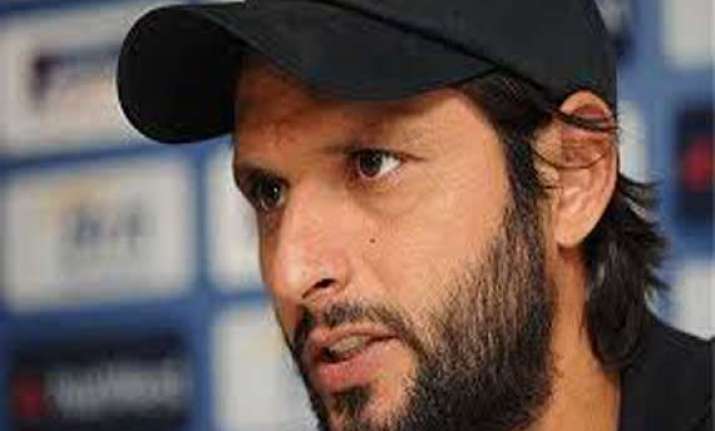 Karachi: Pakistan all-rounder Shahid Afridi feels India's cricketing image has taken a hit worldwide due to the IPL organisers' decision to keep players from his country out of the T20 event.
Talking to reporters in Lahore, the former captain said it was strange to see that while cricketers from all over the world were in the IPL, only Pakistani players were being sidelined by the Indian authorities.
"It is a setback for Pakistani players but overall it is the image of Indian cricket that has suffered because of this policy," Afridi said.
Afridi said Pakistan has always supported Indian cricket and even now was putting its hand out for having normal and cordial relations.
"I have always said that not only through politics but even through cricket, relations between the two countries can improve a lot," he asserted.
Afridi also talked about his future plans insisting he might quit playing ODIs after the 2015 World Cup.
"I will take a decision than on what to do after looking at my fitness and performances. But there is no doubt that this World Cup is of great importance and significance for senior players like myself."
"Maybe after the World Cup I might decide to just focus on playing T20 cricket."
Asked about the captaincy, Afridi said he had been asked a similar question after returning from the World T20 tournament in Bangladesh.
"Like every player, I also have a desire to lead my country. I love challenges and I have a big heart and I am not one to run away from challenges. There is a wish to be captain and it will always be there."
Afridi was also candid when asked about his past differences with new head coach Waqar Younis.
"We have to forget past issues and if we remain adamant about not forgetting than it will not be beneficial for anyone," he stated.