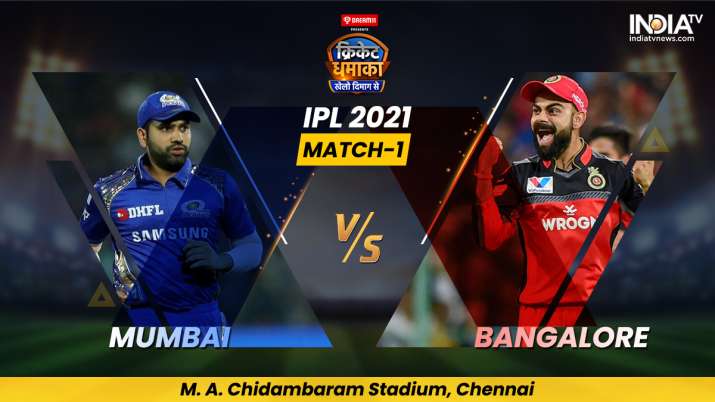 HIGHLIGHTS IPL 2021 Match 1, MI vs RCB
IPL 2021, MI vs RCB HIGHLIGHTS: 
That is it from our live coverage of Mumbai Indians vs Royal Challengers Bangalore on indiatvnews.com. Less than six months after lifting their record-extending fifth IPL title, Mumbai Indians are back again for their sixth title-defending season.
Rohit Sharma's men will begin their campaign against Royal Challengers Bangalore at the MA Chidambaram Stadium in Chennai. While Mumbai hold the edge over Virat Kohli's army having won 10 of their last 12 encounters, the champions have not won a season opener since 2013. Here, you can find ball-by-ball updates from Mumbai Indians vs Royal Challengers Bangalore Live Online. LIVE STREAMING
Hello and welcome to the live coverage of the IPL 2021 season-opener between MI and RCB!
23:27 IST: RCB win by 2 wickets in the season opener. 
23:20 IST: De Villiers un out for 48. RCB need 2 off 2 to win the opener. HEADING FOR A SUPER OVER????
23:00 IST: OUT! Bumrah proves why he's among the world's finest death overs specialist. Dan Christian walks back on 1 to make things difficult for Kohli's men. de Villiers is still in the middle.
22:57 IST: RCB need 39 off the last four overs to clinch the IPL 2021 opener!
22:51 IST: SIX! Mr 360 smokes it for a maximum! de Villiers clears the long-off rope against Rahul Chahar.
22:48 IST: OUT! Jansen strikes again! RCB are now facing a collapse as Shahbaz Ahmed walks back after scoring 1. All eyes on de Villiers now!
22:47 IST: AB de Villiers is now joined by Shahbaz Ahmed in the middle.
22:43 IST: OUT! Debutant Marco Jansen rises to the occasion! Chris Lynn takes a brilliant catch as Maxwell's 39-run knock comes to a halt. Are RCB floundering in the run-chase yet again? 
22:35 IST: OUT! Jasprit Bumrah has done it again! He removes Kohli on 33 and breaks the 50-run stand to drag Mumbai back into the contest. RCB have lost their fourth wicket in form of Kohli.
22:34 IST: Kohli's woes in middle overs continue. In the powerplay today, he scored 20 off 12, contrasting to his 13 from 16 deliveries in middle overs.  Between overs 7 and 16, Kohli has an IPL strike rate of 127.3, and 116.3 since 2018 with a boundary rate of 11.16. 
22:29 IST: SIX! Switch-hit working perfectly for Maxwell. A leg-break by Rahul Chahar gets smacked by Maxwell towards deep point. The Aussie has now hit two sixes off 19 deliveries. Facing 100 balls in IPL 2020, Maxwell hadn't scored a single six.
22:25 IST: SIX! That's out of the part from Maxwell! The big-hitter, who didn't hit a single six last year in the UAE, starts off this season with a 100-meter maximum. Even skipper Kohli is amused.
22:16 IST: FOUR! One can never anticipate Maxwell! Inside out from the all-rounder for a four! RCB are 69-2 after 9 overs. 
22:11 IST: FOUR! "The Big Show" opens up his arms! Maxwell welcomes Rahul Chahar with a reverse-sweep towards the third man. Bangalore fans would be hoping for a few more fireworks off Maxwell's willow.
22:09 IST: Chasing 159, RCB are 50/2 after seven overs. Kohli, on 23, is still in the middle. 
22:05 IST: RCB's new recruit Glenn Maxwell is in the middle with skipper Kohli! 
22:03 IST: Boult to Patidar, OUT! Chopped on the stumps. Departs for 8 as RCB lose their second wicket.
22:00 IST: Boult to Patidar, FOUR! Angled across and cut away behind for a boundary. 
21:52 IST: Jansen to Kohli, FOUR! Little bit too short and down the leg side. Kohli shuffles across and flicks it over backward square leg
21:49 IST: Jansen to Kohli, FOUR! Short and Kohli pulls it through square leg for a boundary. 
21:44 IST: Boult to Kohli, FOUR! Widish line and Kohli pounces on it to drive the ball through covers for a boundary
21:23 IST: Harshal Patel becomes the first player to register a five-wicket haul against Mumbai Indians! MI 159/9 in 20 overs.
21:20 IST! A dream return for Harshal as he finishes with figures of 5/27 in his four overs. RCB have to hunt 159 to win the opener. After a solid second-wicket partnership between Lynn and Suryakumar, the defending champions crumpled towards the end, ending up with 159/9 in 20 overs. 
21:18 IST: OUT! Not a hat-trick but Harshal takes three in four deliveries! Fifer for him as he removes Marco Jansen with an inswinging yorker. Kohli is delighted and so is the RCB camp. 
21:15 IST: OUT! Harshal Patel is on fire! Two in two for him as he gets big fish -- Kieron Pollard. Harshal picks four wickets in a game for the first time in IPL history. He's on a hat-trick!
21:14 IST: OUT! Harshal is proving effective in these conditions! Third wicket for him as he dismisses Krunal Pandya on 7.
21:12 IST: FOUR! Jamieson pulls out a slower bouncer from his hat but the ball takes the edge of Pollard's bat to race towards the boundary! Mumbai Indians 158/5 after 19 overs 
21:04 IST: OUT! Harshal Patel picks his second! Traps Ishan Kishan with a slower delivery as Mumbai lose their fifth wicket. Picked ahead of Navdeep Saini, Harshal is making full use of the sluggish pitch.
21:00 IST: An excellent spell for Siraj! He ends with an impressive 4-0-22-0.
20:53 IST: Kieron Pollard joins Ishan Kishan in the middle!
Last year in the UAE, Mumbai Indians were the best-scoring death-overs batting team in IPL 2020 (12.73 RPO). Ishan Kishan's SR in the slog overs were 244.83 and Kieron Pollard's was 239.77. Both were in the top 5 of that list. Death-overs mayhem incoming!
20:50 IST: OUT! Harshal Patel to the rescue! He traps Hardik with a slower delivery as Mumbai lose their fourth wicket. Harshal certainly has put a stop to a few anticipated fireworks. The ball came slow and the impact was in line with the leg stump. 
20:46 IST: Harshal Patel is back into the attack. MI 128/3 after 15 overs.
20:43 IST: FOUR! Hardik Pandya hits the ball straight down the ground for a boundary. We all know what he can do in death overs. After Ishan and Hardik, MI still have Kieron Pollard and Krunal Pandya in their artillery.  
20:37 IST: Hardik Pandya joins Ishan Kishan in the middle. The Mumbai outfit is power-packed with big hitters.
20:34 IST: OUT! Washington has the last laugh! Lynn departs after a 35-ball 49. The bowling change works for RCB as Washington plucks a backwards-running catch.
20:33 IST: FOUR! Washington Sundar comes into the attack and is welcomed with a four. Dangerous-looking Lynn snacks it towards long-on. MI 105/2 after 12.4 overs. 
20:28 IST: Ishan Kishan joins Lynn in the middle.
20:25 IST: OUT! Suryakumar departs on 31 (23)! Jamieson snaps up first IPL wicket. The Kiwi pacer gets extra bounce on the slow surface as Suryakumar nicks it to de Villiers.
20:24 IST: SIX! Elegant as always! Suryakumar knew it was going to clear the rope as soon as he hit it against Jamieson
20:15 IST: 83/1 for Mumbai Indians after first nine overs! If the Lynn-Surya pair sticks in the middle, Mumbai could end up posting a formidable total at Chepauk.
20:10 IST: FOUR! Suryakumar hits it towards the third man for a boundary! Suryakumar and Lynn -- two former KKR players -- are making things tricky for RCB. They've now stitched a 50-run stand for the second wicket. 
20:07 IST: SIX! Lynn is looking in fine touch! The Australian smokes it to deep mid-wicket for a maximum.
20:06 IST:  In IPL 2020, RCB had the second-best middle-over bowling economy rate with 7.39 and the second-best strike rate as well with a wicket every 22.79 deliveries, both after SunRisers Hyderabad (SRH).
19:59 IST: FOUR! Suryakumar joins the party! Hits it to sweeper cover for a boundary as MI gather 41/1 in the Powerplay.
19:57 IST: SIX! Lynn shifts gears! The explosive opener dances down the ground to hit Chahal for a maximum.
19:50 IST: FOUR! In-form Suryakumar Yadav is off the mark with a sublime flick against Jamieson! Suryakumar had a terrific domestic season with Mumbai, which eventually helped him enter the Indian T20I side for the series at home against England.
19:49 IST: OUT! Rohit has to walk back after a mix-up with Lynn, who stayed unmoved at his end! Kohli throws the ball towards Chahal and Rohit is well short of the crease. MI lose their first wicket in the Powerplay itself.
19:48 IST: SIX! Rohit charges down the track to hit it over long-on!
19:46 IST: Yuzvendra Chahal comes into the attack! 
19:45 IST: FOUR! First boundary for MI as skipper Rohit lofts it towards mid-off. Rohit would look to play some more boundaries and take the pressure off debutant Lynn.
19:39 IST: Kyle Jamieson into the attack! He shares the new ball with Siraj as RCB look to mount pressure on the defending champions.
19:33 IST: With skipper Rohit, Lynn is in the middle for the first time in Mumbai Indians jersey. Interestingly, RCB's last win at Chepauk came in 2011 in the second Qualifier against MI.
19:20 IST: RCB have lost nine times in 14 T20 meetings when batting second against Mumbai Indians.
19:15 IST: RCB skipper Virat Kohli has won the toss and elected to field first. As many as five players are set to make their debuts in the blockbuster tournament opener. 
"Good chance for us to get onto the park and create some intensity. With the balance we have this year we can do both, but have to understand who you're playing against," says skipper Kohli.
18:55 IST: "When I look at this ground, feels deceptively small but it isn't. Test match pitch was totally different. This one looks a lot better. New ball will come on to the bat nicely, but the problem will arrive once the ball gets old. Once the spinners come into play, there will be a lot of deviation," L Sivaramakrishnan on the pitch. 
18:45 IST: Chris Lynn has been handed his cap by skipper Rohit Sharma. 20-year-old pacer Marco Jansen is also set to don the blue and gold jersey.
18:36 IST: "We got to have belief in our team, coming up against Mumbai is always an exciting challenge, last time around we had two exciting games. We won one, they won the 2nd one, which was obviously close but obviously they came through because they have such a strong team. 
"The first one was a cliffhanger as well, big scores, Super Over. So we expect a great to start the IPL. I can't think of a more exciting or a more highly skilled and intense game to start of this IPL," Virat Kohli said in a video posted by RCB.
MI vs RCB, Match 1 of IPL 2021: Rohit Sharma has a legacy to defend, Virat Kohli would be looking to create one while a "been-there-done-that" Mahendra Singh Dhoni seems ready to pull off a fresh trick when the Indian Premier League starts on Friday, cooped up in a bio-bubble as a raging pandemic wreaks fresh havoc. Two editions of IPL within a space of five months isn't an ideal situation for all the stakeholders. But for the fans at large, exhausted by the second wave of COVID-19 with cases going past the one lakh mark daily, watching towering sixes, toe-crushers and new talents unearthed will be a welcome diversion in the next seven weeks. [FULL PREVIEW]