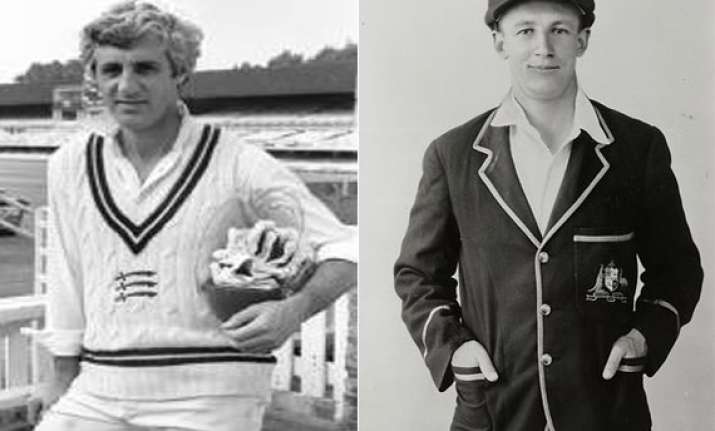 Melbourne: Cricket Australia (CA) Tuesday announced that former England captain Mike Brearley will deliver the 11th Sir Donald Bradman Oration here Oct 23.
Speaking on the 105th anniversary of Bradman's birth, CA chief executive officer James Sutherland said they were delighted that Brearley, who captained England in 31 of his 39 Tests for a win-loss tally of 17-4, had accepted the invitation to deliver the oration.
"Mike Brearley played first-class cricket for 22 years, was one of the game's most eminent captains and was later president of the Marylebone Cricket Club (MCC). He has outstanding insights into both the modern game and its place in the world and also into the history, tradition and culture of cricket as a global sport," Sutherland said.
"The Bradman Oration honours his name via the presentation of a discussion on contemporary cricket's issues and direction and on the importance of the spirit of cricket. This year's oration falls between two consecutive Ashes series and I am delighted that the former Ashes captain and a lucid thinker on the game will be present."
The 71-year-old Brearley said he was delighted and honoured to be asked to present this year's oration, particularly given the timing of two Ashes series.
"There is hardly any comparable rivalry in cricket with the elements of myth, of ancient colonial attitudes, and of matches fought with utter passion but also with fair-mindedness. One remembers the moment in the Centenary Test at Melbourne when Rod Marsh recalled Derek Randall at a crucial stage and the time when at the moment of victory at Edgbaston Andrew Flintoff put his arm round Brett Lee," he said.
"Broadly, there are so many issues in cricket now - the future of Test cricket, T20 cricket and what it brings, the working of the Decision Review System, as well as inherent questions about sport's meaning and role in a fulfilled life."
The Bradman Oration was inaugurated in Aug 2000, six months before the batting legend died, with then Prime Minister John Howard presenting the first oration. Bradman was unwell and unable to attend but sent a message about the game's ideals which was read by his son John on his behalf.
Subsequent orations have been presented by Sir Michael Parkinson, Richie Benaud, Alan Jones, General Peter Cosgrove, Greg Chappell, Ricky Ponting, Sir Tim Rice, Rahul Dravid and Gideon Haigh.