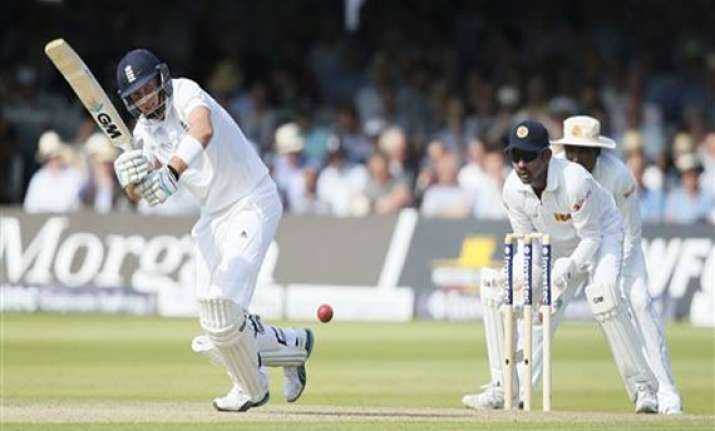 LONDON: Scoreboard at stumps Thursday on day one of the first test between England and Sri Lanka at Lord's:
England 1st Innings
Alastair Cook b Kulasekara 17   
Sam Robson c PJayawardene b Pradeep 1   
Gary Ballance c PJayawardene b Pradeep 23   
Ian Bell lbw b Eranga 56   
Joe Root not out 102   
Moeen Ali c MJayawardene b Herath 48   
Matt Prior not out 76   
Extras: (5nb, 5b, 11lb) 21   
TOTAL: (for 5 wickets) 344   
Overs: 89   
Fall of wickets: 1-14, 2-22, 3-74, 4-120, 5-209   
To bat: Chris Jordan, Stuart Broad, Liam Plunkett, James Anderson.   
Bowling: Nuwan Kulasekara 20-3-61-1, Nuwan Pradeep 17-1-67-2 (3nb), Shaminda Eranga 18-2-86-1 (2nb), Angelo Mathews 11-2-39-0, Rangana Herath 22-2-68-1, Lahiru Thirimanne 1-0-7-0.   
Toss: Sri Lanka   
Sri Lanka:
Kaushal Silva, Dimuth Karunaratne, Kumar Sangakkara, Mahela Jayawardene, Lahiru Thirimanne, Angelo Mathews (captain), Prasanna Jayawrdene, Nuwan Kulasekara, Rangana Herath, Shaminda Eranga, Nuwan Pradeep.   
Umpires: Billy Bowden, New Zealand, and Paul Reiffel, Australia.   
TV umpire: Steve Davis, Australia. Match referee: Andy Pycroft, Zimbabwe.