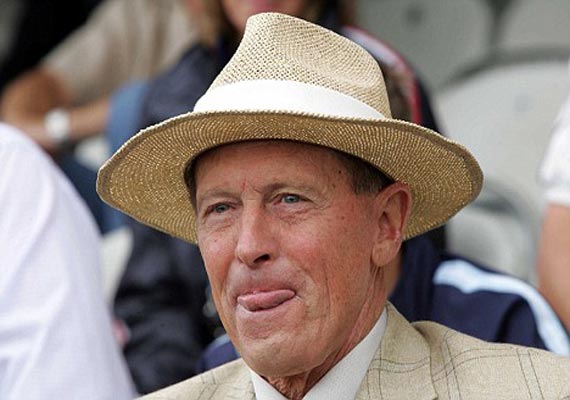 London, July 9: England great Geoffrey Boycott has a poser for English cricket fans: Are England that good to give Australia a hiding in the Ashes? His answer is an emphatic "No". He doesn't think so.
"Some say roll on the Ashes, we will give them a good hiding. But will we? Are we that good? I don't think so. At our best we are better than Australia but favourites do not always win. That is why there are so many rich bookies."
Boycott warns England not to be complacent looking at what the Australians have gone through. In fact, all the recent internal turmoil the team has gone through may make the Australians more focused, Boycott has written in his column in The Telegraph.
"If the shock removal of Mickey Arthur motivates Australia to perform above themselves, then it is absolutely vital that England do not play with any hint of complacency."
Boycott feels that Australia have dangerous seamers and he expects them to have a good day or two and bowl England out for below-par scores. But overall the strength of England's batting is a bit deeper than Australia, Graeme Swann is a far better spinner than
Nathan Lyon
and although the Aussie wicketkeeper Brad Haddin can bat a bit, you would have to back Matt Prior against him.
"Our key players are James Anderson, Prior, Swann and Kevin Pietersen. For me, if they stay fit and the team play near their best, then England will win the series. But we should not think everything is perfect in the England camp. It is not."
Boycott wants new Australia coach Darren Lehmann to tell some of his players that their performances have not been good enough and that they need a kick up the bum.
"I hope he will not be shy of telling a few of his players that their individual performances have not been good enough. Some of those players need a kick up the bum and to realise the Australian board are not about to sack two coaches, one after the other, so if they do not knuckle down, they will be the next ones for the chop."
Was it such a mistake to change the coach at the last moment, asks Boycott.
He believes if it is not right in the dressing room and the team are not pulling together, then it is better to shake it up now than wait for later.
Putting it off until after the Ashes series would not work. It never does.
He recalled how he had asked for coach Duncan Fletcher to be sacked in 2006 and some others did not agree with him, leading to a disastrous Ashes series Down Under.
"In 2006, in India during a Champions Trophy tournament I wrote that England's coach Duncan Fletcher had shot his bolt and that England should remove him. That was before the 5-0 whitewash in Australia that winter."
"Various media people and ex-players felt it would be stupid, that it would upset the team and throw a spanner in the works. Mike Gatting was one who disagreed, Christopher Martin-Jenkins in The Times as well and my friend Jonathan Agnew was another."
"They were wrong. Under Fletcher and captain Andrew Flintoff, England were awful," says one of England's most successful openers.
Finally, the England and Wales Cricket Board relieved Fletcher of his position after the 2007 World Cup. Sorry, they allowed him to save face and resign with a handsome payout. England dithered and paid the price, Boycott wrote.