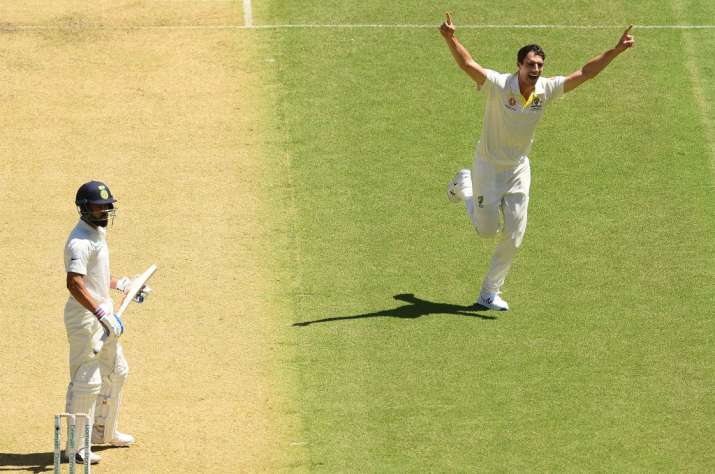 On day one of the opening Test match in Adelaide, India had a pretty hard day at work. Except for Cheteshwar Pujara's one-man show, other batsmen displayed lack of character while facing the Australian fast bowlers. Skipper Virat Kohli, who grabbed all the headlines ahead of the Adelaide Test, failed to live up to the expectations in the first innings.
The 30-year-old batsman scored just three runs off 16 balls he faced and became a victim of Aussie pacer Pat Cummins. Usman Khawaja took a stunner to put a break on 'Run Machine' Kohli and silenced the crowd. It was an embarrassing sight for Kohli as he was dismissed by Cummins second time in his Test career while he just faced four deliveries of the tall Australian and failed to score any runs.
Last time when both of these players faced each other at Ranchi in 2017, Cummins claimed the Indian skipper's wicket on the very first ball he bowled to him. The Delhi-born batsman only managed to score six runs in that match.
It is a tough series for visitors regarding their previous overseas results this year in South Africa (1-2) and England (1-4). Kohli was the lone warrior in both the series and the No.1-ranked Test side surely needs him to perform well in the rest of the Australian tour.
Kohli, the No.1 batsman in the world, has scored just 49 runs in his past six Test innings against Australia. While he has scored three centuries in his previous two Tests in Adelaide.
Earlier on day one, India were in danger of being bowled out cheaply after reckless batting in the opening two sessions, but Pujara scored 123 runs as visitors reached stumps at 250 for 9.
The 30-year-old notched his 16th century and also passed 5,000 test runs. Just before the close, Pujara was run out by a direct hit from Pat Cummins to end his 246-ball innings.