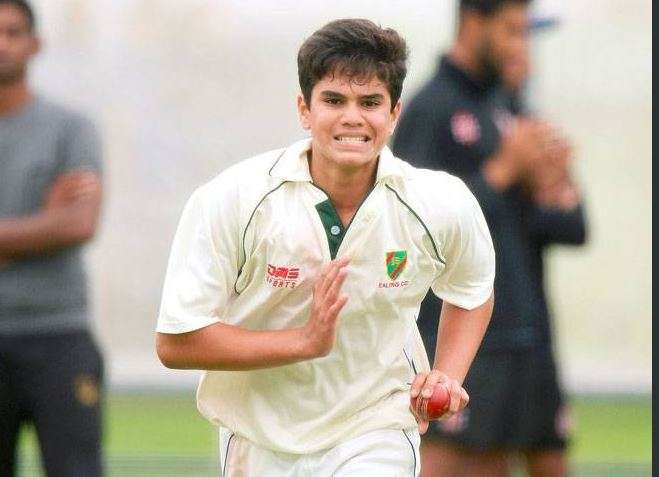 Bowling at the 'Mecca of Cricket' - Lord's is a dream come true for any youngster who aspires to make it big in the gentlemen's game. Sachin Tendulkar's son Arjun Tendulkar not just took a step towards fulfilling that dream but has taken a huge stride in that direction. Bowling at the nets before the first Test between England and South Africa at Lord's, young Arjun gave an injury scare to wicket-keeper/batsman Jonny Bairstow.
The 27-year-old batsman was his left foot by a deadly Yorker from the teenage Tendulkar. Failing to recover from that vicious delivery, Bairstow limped out of the nets after facing only one ball from the 17-year-old pacer.
However, proper medical assistance was provided to Bairstow on the ground. His foot was placed briefly in a compression unit to reduce the pain during the session at Lord's cricket ground on Wednesday morning, as reported the Daily Mail.
Fortunately, the injury was not very serious in nature. And, Bairstow's participation in the first Test wasn't getting affected. England is currently taking on South Africa in the first Test at Lord's. 
Arjun is a left-arm seamer who has practised with the England team before as well. He is a regular on the ground as Sachin Tendulkar, his father owns a property near the historic Lord's ground. Unlike his father, Arjun Tendulkar first love is fast bowling! And, it will not be an overstatement to say that the young boy is making quite a name for himself. He has also made appearances for the Mumbai U-14 and U-16 teams.
England is led by Joe Root, who took the captaincy reins from Alastair Cook earlier this year while Dean Elgar will lead South Africa in the absence of Faf du Plessis.