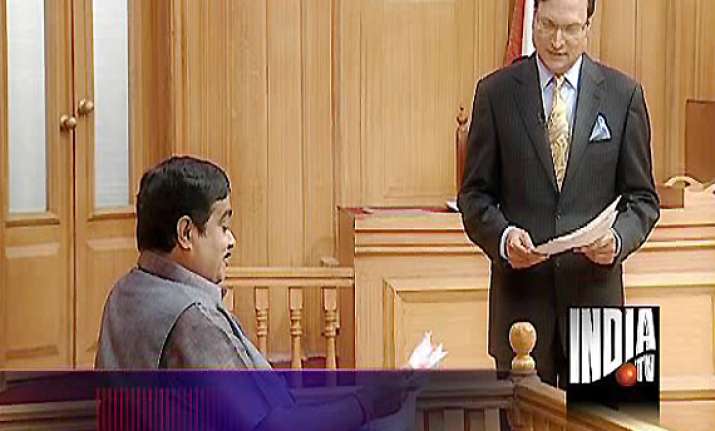 New Delhi, Oct 20: BJP president Nitin Gadkari today said, Sharad Pawar may be a political rival, but he is not a personal enemy. "Pawar is one of the great leaders of Maharashtra who has sound knowledge about agriculture in our state", he added.
Replying to queries in India TV show Aap Ki Adalat, Gadkari said, "we may have ideological differences, but we do not consider our political rivals as personal enemies. I would appeal to Arvind Kejriwal to stop character assassination of political leaders." 
"Kejriwal is targeting me because he wants to own the opposition space in Delhi polls, which is presently occupied by BJP", said Gadkari. 
"It was I who broke the Telgi fake stamp paper scam in Maharashtra, it was I who broke the Waqf Board scam, our MLAs broke the irrigation scam. Then how can people level charges that BJP is in league with NCP in Maharashtra?", asked Gadkari.  
"I was the leader of opposition in Maharashtra when Pawar was chief minister. He did not speak to me for five years. Yet  later we did attend family gatherings.  I also regularly met the late Vilasrao Deshmukh and Sushilkumar Shinde, when they were chief ministers. We attend each other's family gatherings. This is part of Indian cultural ethos", the BJP president said.   
Gadkari said, when he became the party chief, he went to CPI leader  A B Bardhan to seek his blessings.  
"I touched the feet of CPI leader A B Bardhan. Does that mean that the Left and BJP have come closer? We may have ideological differences, but that does not mean they are my personal enemies". 
Gadkari said he never told anti-corruption activist Anjali Damania that  we sometimes help NCP-Congress, and they sometimes help us (chaar kaam hum unka karte hain, chaar kaam woh hamara karte hain).  
"This charge is 100 per cent false. Let her show the evidence." 
Gadkari produced an affidavit to counter Congress leader Digvijay Singh's charge that his properties amount to nearly Rs 1,000 crore.  
"In 2008, I filed an affidavit saying my properties were worth Rs 8 crore, in 2008, I filed affidavit which shows properties worth Rs 12 crore. If Digvijay Singh says it's Rs 1,000 crore, I am willing to give the remaining Rs 988 crore to him or his Congress party", said Gadkari.  
The BJP president replied to charges about his closeness with businessman Ajay Sancheti.  
"I have no business relations with Ajay Sancheti (BJP Rajya Sabha MP). His grandfather was a sanghchalak in RSS. His brother was an MLA of Jan Sangh, and he himself was a Vidyarthi Parishad activist. 
"If anybody can establish that I have business relations with Ajay Sancheti, I will retire from politics 101 per cent. I never gave a single contract to his company", said Gadkari.  
"Even Ratan Tata once praised me. The late Dhirubhai Ambani once told me if India had 5 or 6 young leaders like me, the nation would become a big power. Does that mean that they are my partners?", asked the BJP president.  
Nitin Gadkari in Rajat Sharma's show Aap Ki Adalat will be telecast on Saturday (Oct 20) at 10 pm and on Sunday (Oct 21)   at 10 am and 10 pm.