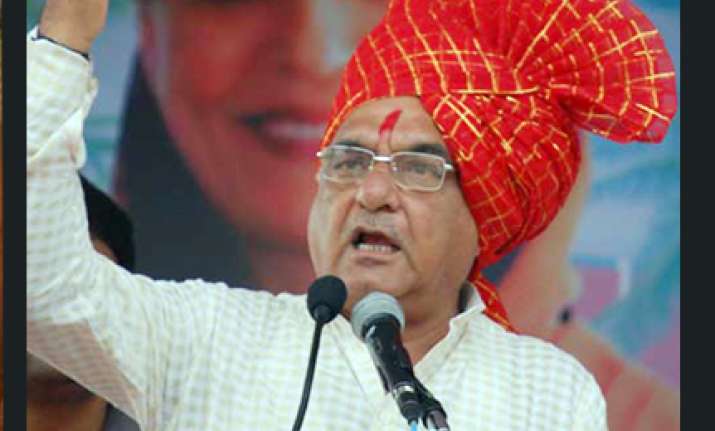 Haryana chief minister Bhupinder Singh Hooda, Indian National Lok Dal chief and former CM Om Prakash Chautala, his son Ajay Chautala, foremer CM Bhajan Lal's wife Jasma Devui, Bhajan Lal's son  and Haryana Janhit Congress chief Kuldeep Bishnoi are among the heavyweights in the poll fray scheduled on October 13.
State BJP chief Krishan Pal Gujjar, state BSP chief Prakash Bharti, former CM Bansi Lal's daughter-in-law Kiran Chaudhry are also contesting the assembly polls.
Kiran Choudhry is the state tourism minister and she is among 67 women in fray for the upcoming assembly elections.
This is the second highest number of women contesting in the state assembly polls since its formation in 1966. In 1996, the highest number of 93 women tested their political fortune. As many as 60 women had fought the last assembly elections in 2005.
Among the women candidates, Congress' Kiran Choudhry (Tosham) and Sumita Singh (Karnal) are seeking re-election.
After withdrawal of nominations on Tuesday, a total of 1,222 candidates are left to contest a total of 90 seats.
Punhana assembly constituency has the highest number of 25 candidates, while Kharkhoda (SC) and Kalanwali (SC) segments have the lowest number of seven candidates each.
Over 1.31 crore voters-- 71,47,100 males and 59,65,911 females-- are eligible to exercise their franchise for the October 13 elections.
Om Prakash Chautala is contesting the polls this time with a  promise for job reservations in private sector, unemployment allowance and scooters to all girl students. However, chief minister Hooda says, even if they promise aeroplanes, people are not going to vote for them.
In the recent Lok Sabha polls, the Congress under Hooda's leadership sept 9 out of 10 seats giving the Congress the confidence to go in for assembly polls before schedule. The opposition is in disarray and this is going to help the ruling party.
On their part, the opposition parties are raising issues like power shortage, involvement of policemen in crimes, widespread corruption in government and pricerise.
The Congress' vote share in this year's Lok Sabha poll was 41 per cent, marginally less than the 42.46 pc it garnered in the 2005 assembly polls.  BSP has improved its vote share from 3.44 pc in 2005 assembly polls to an astounding 16 per cent in this year's LS polls.  INLD's vote share has dipped from 23 pc in 2005 to 16 pc this year.
The Congress does not forget to point out the high crime rate when Chautala was in power till 2004.