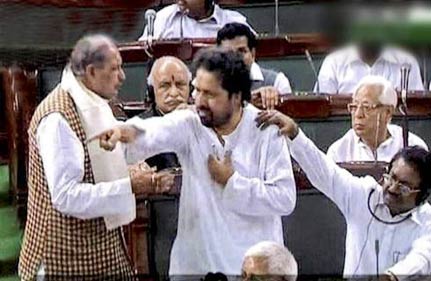 New Delhi, Nov 22: Trinamool Congress, a key UPA ally, today said it was the government's responsibility to take steps to run Parliament smoothly even if it requires accepting the opposition's demand for a JPC probe into 2G spectrum allocation and other issues.
"The responsibility of the government is to ensure that the House functions. If the government takes a decision on JPC, we will support it," Trinamool Congress leader Sudip Bandyopadhyay said.
He was talking to reporters after an all-party meeting convened by Leader of the Lok Sabha Pranab Mukherjee to end the logjam in Parliament on the JPC demand.
When asked whether the TC was in favour of a JPC probe, he said as a major ally in the ruling dispensation, whatever the government decides the party will support.
"But we said (in the meeting) whatever steps government takes to run the House...including setting up of JPC, it should be taken," he said.
With 20 members in the Lok Sabha, TC is the biggest ally of Congress in the UPA.
BJP leader Venkaiah Naidu accused the government of shying away from the responsibility of running Parliament smoothly.
Asked whether BJP is ready for a debate in the House, he told reporters, "Time has come for action. The government should have taken action after the CAG report."
BJP leader Tarun Vijay said nothing short of a JPC was acceptable to the Opposition parties in the 2G and CWG scams. PTI