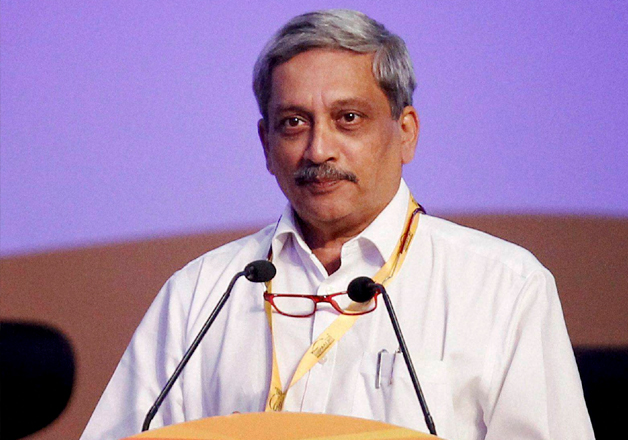 Union Minister and BJP in-charge of Goa Assembly elections Nitin Gadkari has hinted that Defence Minister Manohar Parrikar may be repatriated to his home state to head the government if party retains power here. 
At a press conference here on Thursday, Gadkari, however, said that the decision in this regard will be taken by the central leadership only if party MLAs decide so after the polls.
"A leader in Delhi can be made the CM of Goa if the party MLAs decide," Gadkari said as he expressed confidence about the BJP retaining power in the coastal state with a bigger majority.
Asked which central leader could be shifted to Goa, Gadkari said, "The elected representatives will elect their leader (the chief minister). This leader can either be from the elected representatives or we can even send (someone) from the Centre. But, the next chief minister would be decided in a democratic way by the elected representatives."
Defence Minister Manohar Parrikar, a former Goa chief minister, and his Cabinet colleague Sripad Naik hail from the coastal state, but despite repeated queries, Gadkari declined to reveal if he was hinting at one of them.
When specifically asked whether Parrikar or Naik (the MP from North Goa) will be brought in as the CM, the former BJP chief said, "Anyone selected by the MLAs can become the leader...even from the Centre. This election is being fought under the leaderships of Manohar Parrikar, (Chief Minister) Laxmikant Parsekar, Sripad Naik and Vinay Tendulkar (Goa BJP chief)." 
"We are not confusing the Goan voters. We have only kept our options open. I am simply talking about a possibility," he added.
The latest development is important because the ruling BJP in Goa has decided to go to polls without a CM candidate even as it announced names for 29 seats, including 17 sitting MLAs, on Thursday. CM Laxmikant Parsekar figures in the list released following the party's Central Election Committee (CEC) meeting on Wednesday.
"The second list of BJP candidates will be announced in the next two days. I am confident that we will get more seats than the last election. We will form the government," Gadkari said.
Further he said, political stability was of utmost concern in the state which, in the past, has seen switching of sides by MLAs and chief ministers getting unseated mid-way.
"Goa has witnessed instability in the past. Goa governments were made unstable by a few legislators. Even for this election, many parties contesting the polls will not be able to form the government on their own. If they get a chance (to form government), Goa would once again face political instability. Only BJP can give it a stable government," he said.
The BJP has 21 MLAs in 40-Chair House. The state will go to polls on February 4. Results will be declared on March 11.