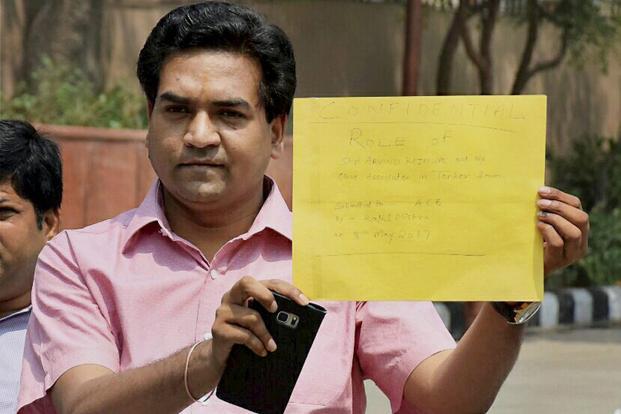 Leveling fresh allegations against the Aam Aadmi Party (AAP) leadership, former Delhi minister Kapil Mishra, who was sacked from the party's membership yesterday, claimed that several AAP leaders used unaccounted money to fund their foreign trips. 
Before heading to the CBI to file corruption complaint against Delhi Chief Minister Arvind Kejriwal, the former water resources minister accused Satyendra Jain, Ashish Khetan, Raghav Chadha, Sanjay Singh and Durgesh Pathak of using "ïllicit" money to travel abroad.
"I demand them to make public the details of their foreign trips, or else I will sit on hunger strike," he said.
In response, Keriwal tweeted, "Today in assembly, Saurabh Bharaawaj will disclose the truth about a big conspiracy going on  in the country…truth will prevail".
देश में चल रहे एक बहुत बड़े षड्यंत्र का सच आज सदन में सौरभ भारद्वाज देश के सामने रखेंगे। उन्हें ज़रूर सुनियेगा। सत्यमेव जयते।

— Arvind Kejriwal (@ArvindKejriwal) May 9, 2017
Earlier today, Mishra, who was suspended from the party's primary membership after he accused Chief Minister Arvind Kejriwal of accepting Rs 2 crore from minister Satyendra Jain in his presence, wrote an open letter to the AAP supremo saying he will lodge an FIR against him with the CBI. 
Asserting that Kejriwal once used to be his 'guru', Mishra said that he was going to lodge a string of FIRs against the one who taught him to how to fight against corruption.
"I am releasing an open letter to Kejriwal. I am going to file FIRs against the person from whom I have learnt to fight against corruption and to take a stand for the truth. He used to be my 'guru' and today I am fighting against him. This is very painful for me but I can't keep quiet. From whom I have learnt these things, today I want his blessings for the victory in this war against corruption. I will file an FIR against you and I am apologizing for the same," Mishra said.
He further said that he was sacked from the state cabinet minister post because he wrote a letter to the Anti Corruption Bureau (ACB).
"If I had not written a letter to the ACB, then he would have not sacked me as the state cabinet minister. I have many evidences against Kejriwal. I know Kejriwal will try to give clarification on all the allegations made by me in the Delhi Assembly today and also brand me as a liar and a corrupt. I know his every tactics," he added.
He further challenged Kejriwal to fight election against him from the same Karawal Nagar seat of the Delhi constituent Assembly.
You are trying to remove me from the assembly, I challenge you to contest the elections against me, from any seat. Let's fight the election from my Karawal Nagar seat or even your New Delhi seat. If you believe that people are with you, then I am ready to resign, he said.
Asserting that Kejriwal is planning to remove him as member of legislative assembly, he said the decision would not affect him, adding that he is ready give his resignation if needed.
"I am all alone in this fight and ready to sacrifice everything. But I would like to say that if you have a morality then accept my challenge and contest elections from either of our seats. Do you have the courage to face the people's mandate? If you have a fear of losing seat then contest the election without giving resignation. I am waiting for your reply," he said in a clear message to Kejriwal.
The decision to suspend Mishra from the party's membership was taken by the Political Affairs Committee (PAC) chaired by Kejriwal on Monday evening. 
Mishra was suspended hours after he submitted documents to the Anti-Corruption Branch (ACB), claiming that Kejriwal had delayed the probe against former CM Sheila Dikshit in the Rs 400-crore water tanker scam. 
Mishra had dared the party to sack him even as he fired a fresh salvo at Kejriwal, alleging that a Rs 50 crore deal was made for the AAP chief's brother-in-law, S K Bansal.
"Satyendar Jain told me that he had arranged a seven-acre land deal in Chattarpur for the Bansal family. He also fudged bills up to Rs 10 crore to benefit Kejriwal's relative," said Mishra, adding that he would register a CBI complaint on Tuesday. 
He has sought an appointment with the CBI today to register a complaint.
He tweeted on today morning confirming that he will be meeting CBI at 11:30 am. 
at 9 am today, important announcement . I will be going to CBI office at 11:30 am

— Kapil Mishra (@KapilMishra_IND) May 9, 2017
Unfortunately, Bansal suffered a stroke and passed away on Sunday night. Deputy CM Sisosia left the PAC meeting midway to express his disgust over Mishra, saying that he was doing politics over a man who had passed away. 
It has been alleged that Bansal, a PWD contractor, had been paid without the work being completed, a charge that has been denied by the ruling AAP government. 
Adding to his series of allegations over the AAP leadership, Mishra said that during the Punjab polls, there was massive corruption in distribution of tickets, including liquor being supplied by party members. 
He also asked for a lie-detector test to check the veracity of his charge. "Let all three of us (Kejriwal, Jain and Mishra) undergo a lie-detector test. It will make clear who is telling the truth and who is lying," said Mishra.
The party slammed Mishra for his allegations, saying that he was acting on the behest of BJP. 
"A game of exploitation is being played against AAP.BJP has hatched a conspiracy against AAP through Mishra," said senior party functionary Sanjay Singh. 
"We want to ask if he claims to have been at the CM's residence on Friday and alleges that he saw CM taking a bribe from Satyendra Jain, why is he not sharing the time of the day when he went there," he added. 
AAP has also shown a letter written by Mishra to the ACB in 2016 saying the agency was trying to target Kejriwal in the alleged water tanker scam even when his name was not mentioned anywhere in the evidence. Singh accused Mishra speaking the BJP's language.
On this, Mishra reacted by saying that whosoever raised his voice against senior AAP functionaries was called a "BJP agent". He asked the party to prove that he was in touch with BJP leaders, asserting that he would never leave the party, nor join BJP.
Kejriwal, on the other hand, finally broke his silence on graft charges levelled by Mishra, saying that "truth will triumph". 
"Truth will triumph, its beginning will be made during tomorrow's special session of the Delhi Assembly," he tweeted. 
The one-day special session of the Delhi Assembly scheduled today is expected to be a stormy affair as the opposition BJP plans to come down hard on the  government over Mishra's graft charges against Kejriwal.
AAP drama: Delhi Assembly to witness stormy special session today

Read @ANI_news story -> https://t.co/ywskWPDdxP pic.twitter.com/yoIOTXEQWU

— ANI Digital (@ani_digital) May 9, 2017
Today, in the Assembly, the ruling AAP will also seek to corner the BJP and its government at the Centre over alleged EVM manipulation. 
AAP MLAs are also expected to raise the recent CBI raid at the Delhi Secretariat and issuance of a notice to the AAP by the Centre to furnish details of its overseas funding during the session. 
On its part, the BJP, whose strength of MLAs has been increased from three to four in the 70-member Assembly after it won the Rajouri Garden by-poll last month, will try to corner the AAP government on governance and other issues.
Meanwhile, the Anti-Corruption Branch said it will record sacked Delhi minister Kapil Mishra's detailed statement.
"Mishra has said that he wants to record a detailed statement and we will give him time. We will record his detailed statement," ACB chief Mukesh Kumar Meena said.