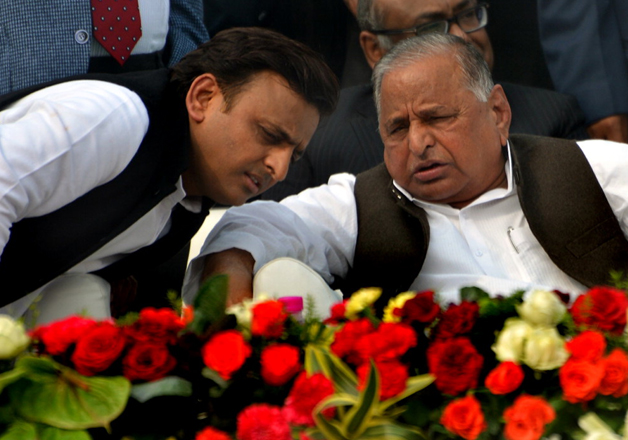 Amid internal differences now reaching a flashpoint, Uttar Pradesh Chief Minister Akhilesh Yadav today met his father and Samajwadi Party patriarch Mulayam Singh Yadav at the latter's residence here.
The 90-minute long between the duo, however, ended without any firm conclusion, sources said. The meeting came amid the serious prospects of the Election Commission freezing the party's election symbol 'cycle'. 
The commission has fixed January 13 for hearing both factions of the SP staking claim on party symbol. 
Sources said that the impasse continued as Akhilesh drove out without making any commitment to his father. The incumbent CM is learnt to have told his father that he would consult his team and Ram Gopal Yadav and revert.
Akhilesh is learnt to have heard out his father, presented his side of the story and discussed the future of Ram Gopal Yadav, Shivpal Yadav and Amar Singh and distribution of tickets and a possible alliance with the Congress.
The last-minute meeting comes a day after Mulayam made a U-turn and declared that Akhilesh Yadav will be the Chief Minister if the party retains power on the upcoming polls. 
Sources said that the Akhilesh camp is reportedly not convinced about the change of heart from his father's side who had in past refused to declare him chief ministerial candidate. 
Another source close to Akhilesh said that 'he confirmed the persisting mutual distrust' but expressed happiness they had met.
Mulayam's declaration and Akhilesh rushing to meet him today was seen as an indication that there can now be peace in the UP's first family that has been derailed due to internal differences over tickets distribution.
Speaking to India TV, staunch Akhilesh loyalist and uncle Ram Gopal Yadav welcomed his elder brother's announcement but questioned how long he would stand on his own words'. 
"We welcome this announcement. We have been demanding this... if he had declared him (Akhilesh) CM candidate earlier, this situation could have been averted," he said.
"Now we have to see for how long Netaji (Mulayam) stands on his own word, because there are people surrounding him who repeatedly divert his attention from core issues and don't allow him to stand on his own words," he added.
Ramgopal also said that Akhilesh must be given 'full' control of the party if 'Netaji (Mulayam) wants Samajwadi Party to retain power'.
"The matter has now reached the Election Commission, both sides are now claiming 'cycle' symbol. There is only one way now, Netaji must take back his petition and give full power to Akhilesh. Akhilesh be allowed to decide the list of candidates. It is very important to field good candidates to win. For two months or three months, Netaji should give him power and work under his leadership," he said.
"The names which were declared in the first list were mostly decided by Shivpal. They are not deserving, they can't win," he added.
Political observers feel that by yielding some space to Akhilesh, Mulayam was trying to isolate the Chief Minister by painting him as one who defied not only the party constitution but was greedy for power even if it meant tripping his ageing father.
Leaders privy to both camps in the Samajwadi Party feel that the chances of a compromise were thin.
Uttar Pradesh will go to polls in a seven-phase contest starting February 11 and ending March 8. Counting of votes will take place on March 11.