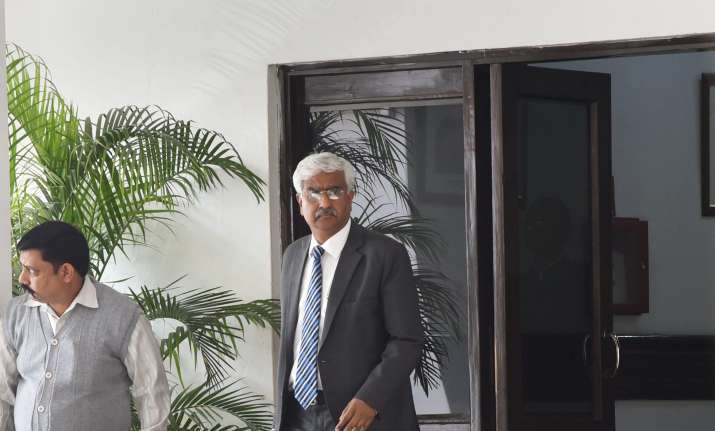 Delhi Chief Secretary Anshu Prakash on Tuesday alleged that he was assaulted by AAP MLAs in presence of Chief Minister Arvind Kejriwal during a meeting on Monday night. 
"Without any provocation from my side, (they) started hitting and assaulting me and hit several blows with fists on my head and temple. My spectacles fell on the ground. I was in a state of shock," Delhi Chief Secretary alleged in an official complaint filed by him on Tuesday morning. 
The complaint gives a shocking account of what transpired at the CM residence on Monday midnight. 
Follow LIVE UPDATES on Chaos ensues in Delhi Secretariat after Chief Secretary alleges assault by AAP MLAs
Here is what allegedly happened at CM's residence on Monday night: 
1) Prakash said that he was repeatedly urged to attend the meeting at CM Arvind Kejriwal's residence at midnight, despite his request to hold it on next morning instead. The senior IAS officer said when he reached the CM residence for the meeting, CM's advisor VK Singh took him to a room, where at least 11 MLAs were present apart from Kejriwal. 
2) Made to sit in the middle of two MLAs, Prakash was asked to explain why he has not done enough to publicise Delhi Government's work and broadcast TV campaign on three years of AAP Govt to which he explained that the ad campaign has to be in line with Supreme Court's directions, the complaint says. 
3) According to the Chief Secy, the response irked the present MLAs, who started blaming him for not promoting AAP Government enough. "The MLAs started shouting at me and abused me while blaming me and the bureaucracy for not doing enough publicity of the Government," he said in the police complaint. 
4) The IAS officer claimed that one of the MLAs threatened him that he will be confined in the room for the entire night unless he agress to release TV campaign. 
5) "A threat was made that I will be implicated in false cases including under the SC/ST Act," he said.
6) Prakash said that the situation escalated from there on, with one MLA extending the threat to his life. 
7) "Then, suddenly," Chief Secy said, Amantullah Khan and another MLA, "Without any provocation from my side, (they) started hitting and assaulting me and hit several blows with fists on my head and temple. My spectacles fell on the ground. I was in a state of shock."
8) The police complaint says that the IAS officer did not retaliate at any point despite 'confinement, criminal intimidation and assault' while he was discharging his duties. 
9) "None of the persons present in the room made any efforts to save me," the senior IAS officer said. 
10) An FIR has been lodged in the matter under Sections 186 (obstructing a public servant from performing the duty), 353 (assaulting a public servant), 323 (voluntarily causing hurt), 342, 504, 506(2) and 120b and 34.
Delhi: Chief Secretary Anshu Prakash's complaint letter to Police over yesterday's incident pic.twitter.com/zvdsNGatIN

— ANI (@ANI) February 20, 2018
Arvind Kejriwal-led government has categorically denied the allegations. The accused MLA Amatullah Khan told India TV this morning that he never assaulted Delhi Chief Secretary Anshu Prakash, adding that everything is happening as per BJP's plan.
The Aam Aadmi Party in a statement said, "Chief Secretary refused to answer questions saying he wasn't answerable to MLAs and chief minister and that he was answerable only to LG. He used bad language against some MLAs and left without answering any questions. Now he's making ludicrous allegations". AAP also lodged a complaint with SC/ST Commission against the alleged casteist comments made by the Delhi Chief Secretary. 
Meanwhile, Ministry of Home Affairs has sought a report on the incident from the Lieutenant Governor of Delhi. 
"I am deeply pained by the happenings involving the Chief Secretary of the Delhi Government. The civil servants should be allowed to work with dignity and without fear," Home Minister Rajnath Singh said.
Watch video: IAS association meets Home Minister over alleged assault on Delhi Chief Secretary