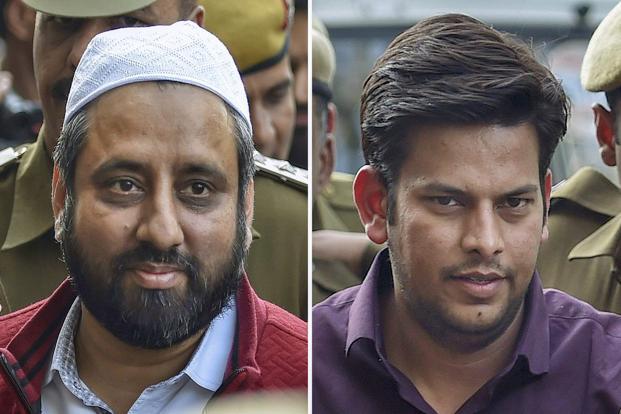 Delhi's Tis Hazari court on Friday rejected the bail pleas of AAP MLAs Amanatullah Khan and Prakash Jarwal, arrested for allegedly assaulting chief secretary Anshu Prakash.
Both the legislators will remain in judicial custody for now.
Earlier today, the Delhi Police visited chief minister Arvind Kejriwal's residence to collect all evidences, including CCTV footage, in connection with the February 19 incident.  According to Delhi government spokesperson Arunodya Prakash, 60-70 policemen entered the chief minister's office. 
Reacting to the development, the Delhi chief minister requested the investigative authorities to probe judge Loya death case with same pace.
"A police team has been sent to the chief minister's residence for collecting all evidence, including CCTV footage, in connection with the alleged assault on the Delhi Chief Secretary," Additional DCP, North Delhi, Harinder Singh said. 
"CM house taken over by police. Huge number of police force enters CM house without any intimation. Police Raj kills democracy in Delhi. Police spread all over inside CM house. If this what they can to do an elected CM, think what they can with poor people!!!" Prakash wrote on Twitter. 
"There is minimum courtesy in democracy. Every citizen has rights under constitution. Is it an attempt to humiliate a CM who is working tirelessly for the poor and the last man of the society?" he tweeted. 
As it happened on Feb 23:
03:35 pm: Tis Hazari Court rejects bail pleas of AAP MLAs Amanatullah Khan, Prakash Jarwal. 
01:34 pm: There are 21 cameras installed out of which 14 were operational, while recording was off in 7 cameras. There was no camera in the room where the incident took place: Senior Delhi Police officer on alleged assault of Delhi Chief Secretary Anshu Prakash case 
12:50 pm: Delhi CM Arvind Kejriwal seeks time from LG Anil Baijal, to have a meeting over the alleged assault of Delhi Chief Secretary Anshu Prakash case.
'We should give them a work-friendly environment.We should be to get the best out of our officers & we must enable them to perform to the best of their performance in the interest of the nation': MoS PMO Jitendra Singh after meeting IAS association delegation. pic.twitter.com/UKYciHjhl3

— ANI (@ANI) February 23, 2018
12:44 pm: I would not like to debate on AAP's claims that everything is happening on the behest of BJP: MoS PMO Jitendra Singh.
12:43 pm: It was our responsibility to listen to the complaints of the IAS officers and we will work on the further course of action: MoS PMO Jitendra Singh.
12:42 pm: We have assured them that the investigations are being carried out: MoS PMO Jitendra Singh.
12:41 pm: IAS officers of Delhi government came for a meeting and we have noted down all their points: MoS PMO Jitendra Singh
12:33 pm: I'm happy with the ongoing investigations, Kejriwal said.
12:30 pm: The chief secretary had alleged that he was beaten up by the two Aam Aadmi Party MLAs in the presence of the chief minister at his residence on February 19, where he had been called for an emergency meeting.
12:28 pm: The party had denied the charges of assault and said that the chief secretary was making allegations at the behest of the BJP. 
12:25 pm: According to the chief secretary, chief minister's adviser Jain had called him over the phone and asked him to come to Kejriwal's residence for a meeting.
12:09 pm: Meanwhile, a Delhi court sent AAP MLAs Amanatullah Khan and Prakash Jarwal to 14-day judicial custody in Tihar jail in the same case.