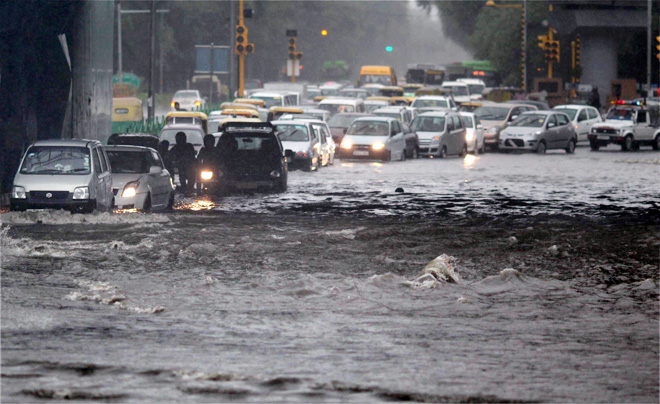 Delhi government today sought to shift the blame on LG Najeeb Jung for heavy traffic jams and waterlogging reported from several areas of the capital after heay rains lashed the city for more than four hours in the morning.
Deputy CM Manish Sisodia lambasted Jung for his silence on the situation and asked him to direct his 'favourite' officials to perform their duties.
"Why LG sahab, who has given 50 media interviews, is silent on waterlogging and traffic jam?" he tweeted.
"Why doesn't LG put his favourite officers, whom he has transferred, on duty? There is also a chapter of duty in the Constitution besides power," another one of Sisodia's tweet read.
अपने अधिकारों को लेकर मीडिया में 50+ इंटरव्यू देने वाले LG साहब अब दिल्ली में जलभराव और जाम पर बयान क्यों नहीं दे रहे? 1/4

— Manish Sisodia (@msisodia) August 31, 2016
LG साहब ने अपनी पसंद के जिन अफसरों को तैनात किया है उनसे काम भी तो लेकर दिखाएं। संविधान में सिर्फ अधिकार का नहीं कर्तव्य का भी चैप्टर है 2/4

— Manish Sisodia (@msisodia) August 31, 2016
The AAP leader said this while referring to LG's decision in which the latter transferred two senior officials in the AAP government, much to the chargin of CM Arvind Kejriwal.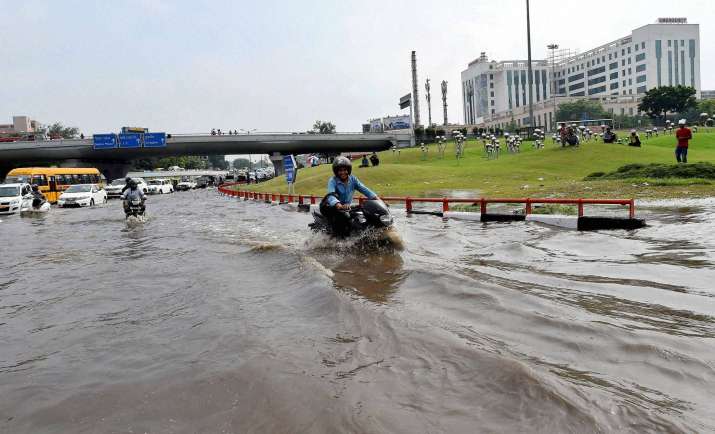 He further alleged that the officers transferred or appointed by the LG were not attending meetings called by concerned ministers.
"Officers appointed by are even not attending the meetings and also not listening to us (government). Few of them had silently told us that they have been asked not to attend meetings," he claimed in another tweet.
"We request the LG to go outside with his officers like ministers and address the problem of waterlogging and traffic jam," he tweeted.
आपके तैनात अफसर न मंत्रियों की मीटिंग में आ रहे हैं, न उनकी सुन रहे हैं। कुछ तो चुपचाप बता भी जाते हैं कि हमें इसके लिए मना किया गया है 3/4

— Manish Sisodia (@msisodia) August 31, 2016
LG साहब से विनती है कि मंत्रियों की तरह बाहर निकलें, अपने तैनात किए अफसरों को लेकर, दिल्ली वालों की जाम व् जलभराव की समस्या दूर करें 4/4

— Manish Sisodia (@msisodia) August 31, 2016
Meanwhile, Congress leader Ajay Maken said that information accessed from the Delhi Government website shows that out of the total number of 1005 PWD roads, under the control of the Delhi government, desilting was completed only on 311 roads, which was merely 30.95 per cent, as on July 5.
"The norm was that the desilting exercise has to be completed by 15th May every year, so that there is enough time for the silt to dry up before it was removed, and before the monsoon rains arrive," he said.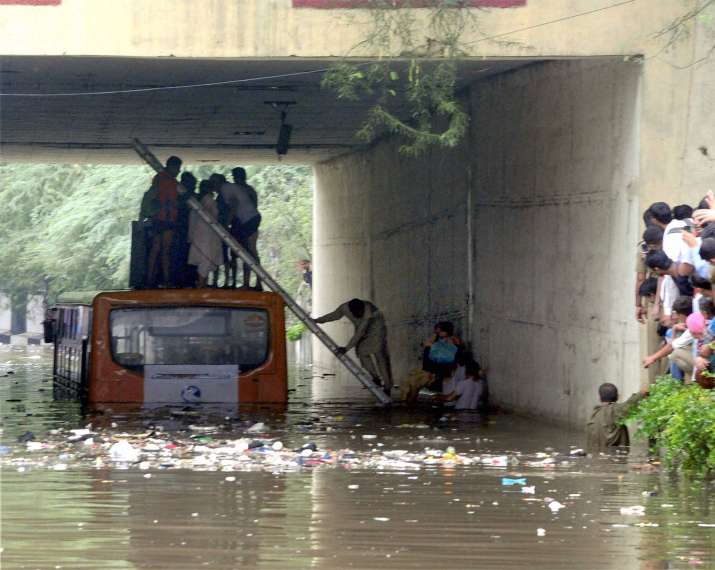 "It was very irresponsible on the part of the PWD department of the Delhi government that out of the total number of 317 roads in east Delhi, desilting was carried out only on 35 roads by 5th July, where as in north Delhi, desilting was done only in 267 roads, out of a total of 432," he added.
Maken claimed that south Delhi was the worst offender in this regard, as desilting was completed only on 9 roads out of 256 under the PWD control.
The clogged roads following heavy rains left the Delhi High Court furious. "We cannot tolerate this year after year," the HC said in a sharp rap to civic authorities.
Reason for such massive WaterLogging for the first time?

Drains of only 30% PWD Roads cleaned before monsoon#Shame pic.twitter.com/Pdr3Os0s7L

— Ajay Maken (@ajaymaken) August 31, 2016
Zakhira underpass-
Fire Brigade rescued passengers from a submerged bus!@ArvindKejriwal blame others for this too! pic.twitter.com/mzAH03YR3W

— Ajay Maken (@ajaymaken) August 31, 2016
"There is no justification for clogged drains. We cannot tolerate this year after year," the court said when it took up a matter relating to water logging of South Extension area of South Delhi.
The court also observed that pools of water collected on roads after the rains due to poor drainage became breeding grounds for mosquitoes, leading to the spread of vector-borne diseases like dengue and chikungunya.
Heavy rains today morning caused waterlogging in many areas and massive traffic gridlocks in the national capital, stranding people on the roads. Traffic helpline officials said that they were flooded with calls of snarls and waterlogging across the city.
Though the heavy rains made the weather pleasant with the minimum temperature settling 26 degree Celsius, one notch below the season's average, it derailed traffic movement across several stretches. Commuters had a tough time reaching their destinations.
Terrible traffic snarls were seen on roads heading to Gurgaon -- which again came to a standstill -- and the airport. Places hit by massive traffic congestion due to waterlogging include Moti Bagh, Wazirabad, Pragati Maidan, Azad Market, the stretch between IIT-Delhi and Munirka, Chirag Dilli, Punjabi Bagh, Karol Bagh, Dwarka, Shastri Park, Seelampur, Ghazipur, Najafgarh, the Nangloi-Mundka road, the Dhaula Kuan flyover, Greater Kailash II market, Dr. Zakir Hussain Marg, Barapullah flyover towards DND, Ashram Chowk, Ring Road Maharani Bagh, Lajpat Nagar and Sarai Kale Khan.