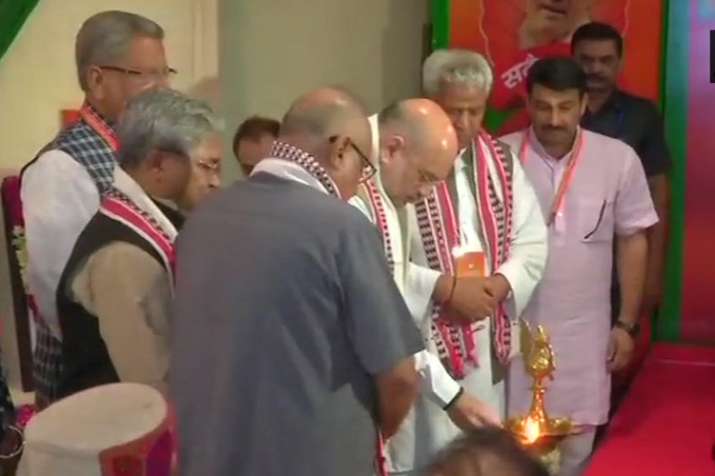 "We have the best leadership in the world. We will win the upcoming Assembly elections and also the 2019 Lok Sabha elections comprehensively," BJP president Amit Shah said as he opened two-day national executive meeting in New Delhi on Saturday. The meeting of the ruling party's key decision-making body is being held at a time when the Narendra Modi government at the Centre is facing a tough time handling the Opposition's attacks and unrest by both upper castes and SC/ST groups. 
During the meeting, the BJP is likely to highlight the Narendra Modi government's steps for 'social justice' and 'economic successes'.
Significantly, the saffron party has picked the Ambedkar International Centre, which works to promote the works and ideas of Dalit icon BR Ambedkar, for hosting the meeting.
#Visuals BJP President Amit Shah at BJP office bearers meeting at Delhi's Ambedkar International Centre. pic.twitter.com/IM30gIodPW

— ANI (@ANI) September 8, 2018
The meeting, which is being held just months ahead of Assembly elections in Madhya Pradesh, Chhattisgarh and Rajasthan, may also see the BJP respond to concerns over the spiraling petrol, diesel prices. The party is also likely to highlight the previous UPA government's "mismanagement of the economy" during the two-day meeting. 
The BJP is likely to present itself as a party that has promoted the interests of the backward classes -- a constituency it has constantly been wooing to big electoral successes since 2014.
  
BJP president Amit Shah will deliver the inaugural address in the presence of the party's top leaders, including Prime Minister Modi. PM Modi is scheduled to give the valedictory speech on Sunday (September 9). Senior party leaders LK Advani, Rajnath Singh, Murli Manohar Joshi, Sushma Swaraj and Arun Jaitley and others would also be attending the meeting.
(With inputs from agencies)