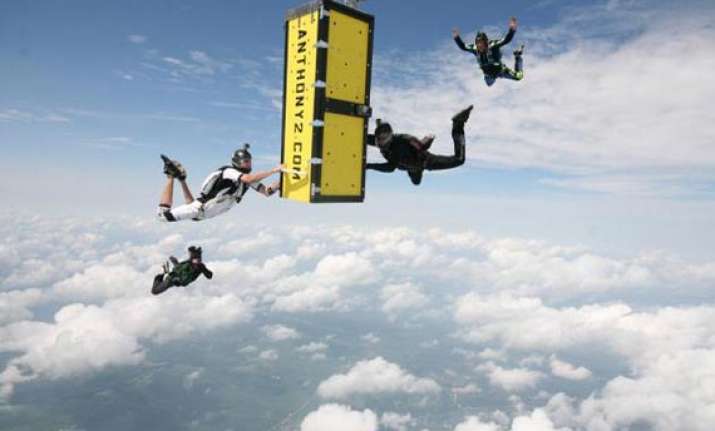 Serena, Aug 8: A U.S. daredevil parachuted gently into field on Tuesday after managing to free himself from shackles and a locked coffin while plummeting through the air.
Anthony Martin waved to the crowd that turned out to watch his stunt after he landed in Serena, Illinois, about 112 km southwest of Chicago.
After being dragged out of a plane at about 4,400 metres up, the coffin whipped wildly from side-to-side with Martin inside. One of the two skydivers who were steadying the box was hit in the face, but everyone landed safely.
Mr. Martin (47) said after freeing himself, he got clear of the coffin and tracked it as it fell to the ground, just as he did when he first pulled off the stunt 25 years ago on just his 17th skydive.
Mr. Martin, who is from Wisconsin, began studying the art of escape at age six after his father shattered his early fascination with magic by explaining a floating pen illusion.
During Tuesday's jump, Mr. Martin laid inside a plywood box with his hands cuffed to a belt around his waist and his right arm chained to the inside of the box. The casket's door was then held tight with a prison door lock for which no key exists; a locksmith scrambled the tumblers.