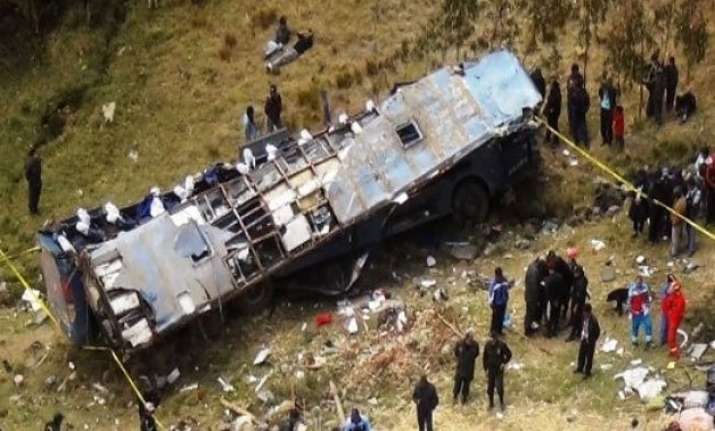 Lima: The toll in the bus accident in southern Peru's Ayacucho region on Monday has risen to 19, according to media reports.The accident also left 37 people injured.
The representative of the Puquio-Lucanas provincial prosecutor's office, Daniel Sotelo, told the official Andina news agency that 19 bodies were recovered from the crash site and taken to a hospital in Puquio city, where they were awaiting identification by relatives.
Thirteen people were pronounced dead at the accident site and six others apparently died at a hospital, Carlos Saravia, director of the health service in Puquio, told Canal N television.
"The scene of the accident is a ravine and we can't get in there because it's about 500 metres (about 1,640 feet) and we don't have search and rescue gear," Saravia said.
There were "probably (more) people who need to be rescued" at the crash site, but "their condition cannot be confirmed", the health official said.
"It's an area where these kinds of accidents always happen," Saravia said.
Rescue teams have been sent to the area, which has been affected by torrential rain in recent days, highway patrol chief Orfiles Bravo told Latina television.
"Aiding the injured is difficult because of both the weather situation and the rough terrain," Bravo said.
Preliminary reports said that the bus went off the highway at 5.30 a.m. on Monday and plunged into a ravine. The cause of the accident has not yet been determined, officials said.
Last week, a crash involving three buses and a truck killed 37 people and injured 70 on a highway about 270 km north of the country's capital Lima.
The accident rate in Peru's interior regions is extremely high on account of the poor condition of roads, an obsolete bus fleet and drivers who obtain licences on the "black market" by paying between $30 and $50, according to experts.