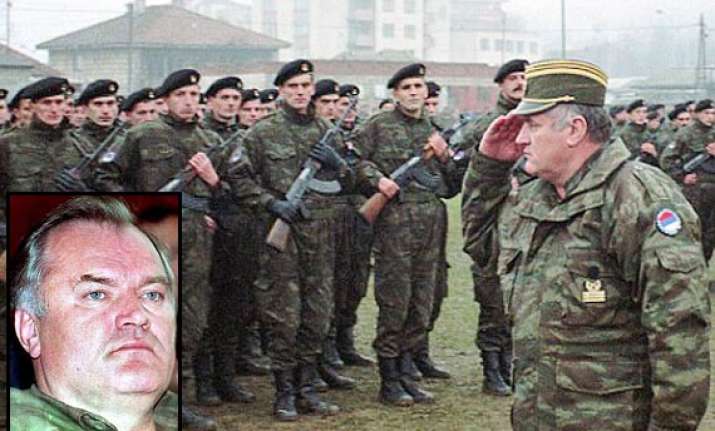 Belgrade, May 26: Serbian police have arrested a man suspected to be the wanted war crimes suspect Ratko Mladic.

General Mladic is the most prominent Bosnian war crimes suspect still at large and is wanted for alleged involvement in the Srebrenica massacre.

After the announcement Serbian President Boris Tadic scheduled an urgent news conference.

No reason was given for the news conference, scheduled for 1300 local time.

'He has some physical features of Mladic. We are analysing his DNA now,' an official said on condition of anonymity.

The man was arrested in Serbia on an anonymous tip, he said.

Serbian state TV said a man who identified himself as Milorad Komadic when he was arrested earlier today is the wartime Bosnian Serb army commander, who has been on the run since 1995.

It gave no other details and Serbia's war crimes prosecutors refused to confirm or deny the report.

Serbia must arrest Mladic, sought by the UN's International Criminal Tribunal for the former Yugoslavia (ICTY), if it wants to join the European Union.

The former head of the Bosnian Serb military, Mladic is wanted by the ICTY on charges of genocide, crimes against humanity and war crimes during the 1992-1995 Bosnian war.

He is accused of involment in the Srebrenica massacre of about 8,000 unarmed Bosnian Muslims in July 1995, and the siege of Sarajevo, in which more than 12,000 civilians died.

The Srebrenica massacre has been described as the single worst atrocity in Europe since World War II.

Serbia was offering Euro 10 million for information leading to Mladic's capture and arrest while the United States government was offering a $5 million dollar reward.

But it has long been suspected that he was still living in Serbia, where many regard him as a national hero and a defender of Serb rights during the Balkan wars.