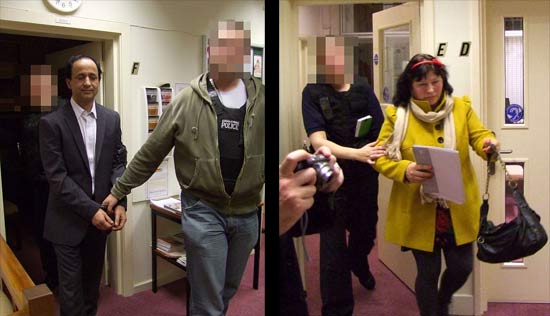 A 40-year-old Pakistani man was caught while performing a sham marriage with a 45-year-old Lithuanian woman in Lincolnshire, UK in order to breach immigration law, The Daily Mail, London reported.
The bride from Lithuania  and the groom from Pakistan, were both arrested on suspicion of conspiracy to breach immigration law.
The wedding was halted by enforcement officers from the UK Border Agency at the County Hall in Boston, Lincs, shortly before 4pm on Friday.
The Pakistani man was later detained under immigration powers by the UK Border Agency for overstaying his visa.
Both were given bail for criminal matters while investigations continue.
'We will not tolerate immigration abuse,' said Stacey Donnelly from the UK Border Agency.
'Our crime teams are cracking down on sham marriages all over the country.'
An eye-witness - who did not wish to be named - said: 'It was about 30 minutes before the ceremony was due to start at the registry office and police officers jumped out from a small side room.
'They grabbed the groom and took him into the separate room - the groom didn't even seem surprised.
'But there were only five or so people there altogether and the rest of them looked a lot more shocked than the groom.
'The bride was wearing a yellow jacket with a red flower in hair - he wore a mis-matched suit with a cap on which was a bit strange for a wedding.
'The officers explained to the groom why they were there and must have questioned him for over half an hour.
'Then another set of officers went to their addresses and searched both properties to get any background information that could prove how long they have been together.'
The arrests come less than a month after four people were jailed after a fake marriage ceremony in Peterborough.
A Nigerian woman was given a two-year jail term earlier this month after being arrested from UK Border Agency officials at a Peterborough church in May.
Ruth Abumhere, 29, of Bowditch, south-east London, was given two consecutive 12-month sentences after admitting trying to obtain leave to stay in the UK by deception and possessing a false identity document.
Portuguese 'groom' Fernando Da Silva, 43, of Ipswich, was given 18 months; Portuguese 'best man' Mamadu Djalo, 33, of Peterborough, received 30 months; and Nigerian 'witness' Clifford Asikhia, 34, of Bowditch, was given an 18-month term.
All three were convicted of conspiring to arrange a sham wedding in order to facilitate a breach of immigration law after a trial.
'You were all involved in a sham marriage which was stopped minutes before it took place,' said Judge Sean Enright. 'There is no doubt this was done for a significant amount of money.'