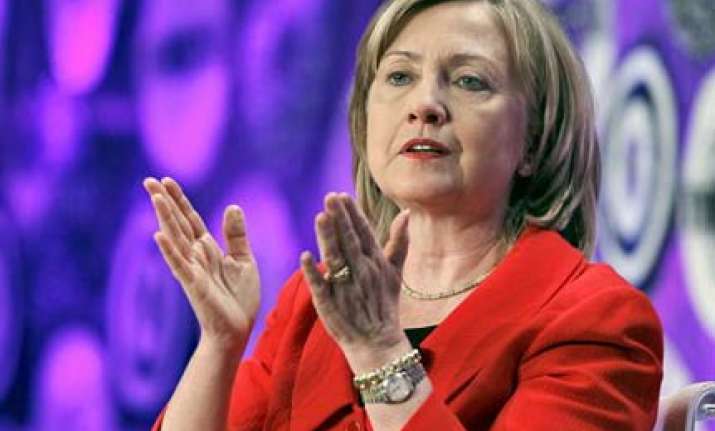 Washington, Oct 7 : The November trip to India by US President Barack Obama will be another clear statement of American support and commitment to the US-India relationship, Secretary of State Hillary Clinton has said. 
"The the President's visit in November will be yet another very clear statement of our support and our commitment to the relationship," Clinton told Naina Kidwai of the HSBC India in response to a question at the 12th annual Fortune Most Powerful Women Summit here. 
"Look, I think our relationship with India, which I was very pleased to open up in the 90s and then followed by the work of my husband and his visit and then the follow-on work by the Bush Administration on the civil nuclear agreement is going from strength to strength. I mean, we are now implementing a very comprehensive Strategic Dialogue between us," Clinton said. 
"By that, I mean it's not just the visits and the meetings at high levels between the president and myself and our counterparts, but really getting into our respective bureaucracies, which, as you know in both of our countries, pose problems to actually getting things done," she said. 
"Also, looking for ways to network our business communities, our academic institutions, our NGOs   we are very bullish on India. We think that India's growth rates and India's commitment to lifting people out of poverty and doing the necessary economic reforms is essential for further development for India," Clinton said.  
And at the same time, India is assuming more of a regional leadership role and a global leadership role, which the US welcomes and encourages, the secretary of state said.  Early this week, Assistant Secretary of State for South and Central Asia Robert Blake said Obama is preparing for a landmark visit to India in November. 
"I foresee our great nations becoming ever closer in the years and decades to come. President Obama intends to make a landmark visit to India in November to help further grow the ties between our two knowledge societies, our economies, and our people," he said. 
"In just a decade there has been a transformation in the way the US views India. President Obama has called India our "indispensable" partner for the 21st century," Blake had said in his remarks at the San Diego World Affairs Council.
 India's strategic importance to the US reflects several factors, he said, including the centre of gravity of US foreign policy has shifted from Europe to Asia. Within Asia no other country has the thriving democracy, economic promise, the sheer human capital and the growing record of cooperation with America that India has, he argued. PTI