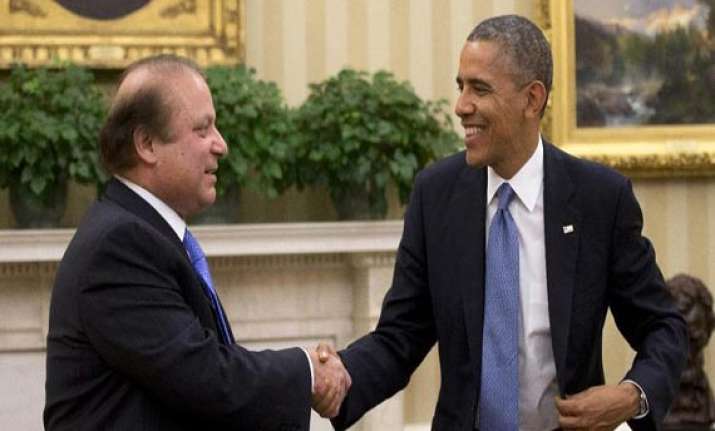 Washington : Pakistani Prime Minister Nawaz Sharif on Wednesday met US President Barack Obama and sought US mediation on Kashmir, but failed to get any assurance.
Obama however appreciated Sharif's offer of cooperation to ease tension with India, and said both the countries can divert billions of dollars spent on arms race to education and social sectors.
"Billions of dollars have been spent on an arms race in response to these tensions," Obama said. "Those resources could be much more properly invested in education, social welfare programs on both sides of the border between India and Pakistan." 
Sharif said he was committed to cooperation with India, including on Kashmir.
 Speaking alongside Obama in the Oval Office, Sharif said he raised the issue of American drone strikes during their two-hour meeting, "emphasizing the need for an end to such strikes." For his part, Obama made no mention of drones, which have stoked widespread resentment in Pakistan where many believe the targeted strikes by the armed unmanned aircraft kill large numbers of civilians. 
Despite the Pakistani concerns, the U.S. has shown no indication it is willing to abandon the attacks, even though the number has dropped in the past couple of years. The Pakistani government secretly supported the strikes in the past, and U.S. officials claim some key leaders still do.