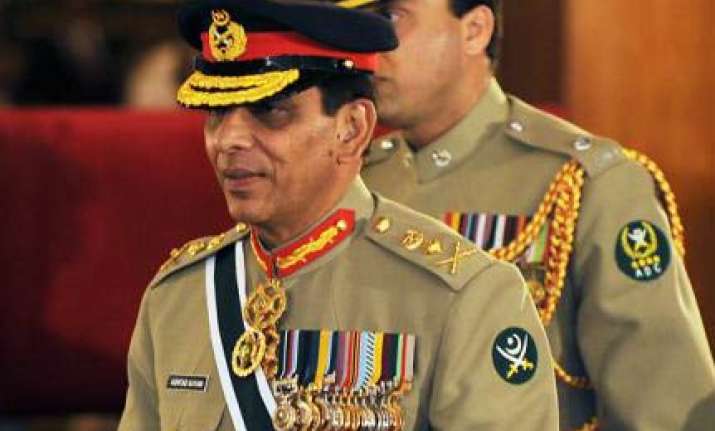 Toronto: Determined to control Kabul, the Pakistan Army under General Ashfaq Parvez Kayani is pursuing a three-pronged policy, including to keep India out of Afghan affairs, a former top Canadian diplomat has said. 
In a write up titled 'The Huge Scale of Pakistan's Complicity', a week after WikiLeaks released secret US war documents implicating Pakistan's double role in Afghanistan, Chris Alexander, a former Canadian envoy to Kabul, said, "The Pakistan army under Gen Kayani is sponsoring a large-scale, covert guerrilla war through Afghan proxies."
 "Their mission in Afghanistan is to keep Pashtun nationalism down, India out and Mr (Hamid) Karzai weak," Alexander, who was also the Deputy Special Representative of the UN Secretary-General for Afghanistan from 2005 until 2009 said. 
According to Alexander, Kayani told the Afghan President this spring that the condition for peace in Afghanistan would be the closing of several Indian consulates, while offering to broker deals with Islamic Emirate leaders, whom he considers a "strategic asset", the Globe and Mail newspaper reported.
Kayani also told a Washington audience that he remained wedded to "strategic depth"   that is, to making Afghanistan the kind of proprietary hinterland for Pakistan, free of Indian or other outside influence, which it was from 1992 to 2001.
Both Afghanistan and Pakistan are now in the grip of a single escalating conflict. As a direct consequence, reconciliation has failed to get off the ground: the Pakistan-based Islamic Emirate of Afghanistan   the official name for the Taliban and its allies   clearly prefer to fight, he said.
There is, however, at least one genuine insight: the Inter-Services Intelligence (ISI), the branch of Pakistan's military charged with most aspects of its Afghan policy   as the main driver of the conflict, he added.  General Kayani and others will deny complicity. But as the WikiLeaks material demonstrates, their heavy-handed involvement is now obvious at all levels, Alexander said, adding that without Pakistani military support, the Islamic Emirate's combat units would collapse like a house of cards. Peace and reconciliation would prosper.  So long as this unholy alliance continues, Afghans will continue to succumb to the mistaken view that the US and its allies are deliberately turning a blind eye to Taliban resurgence, despite our sacrifices to date. 
Pakistan's army's interference in Afghanistan's recovery violates a key provision of the UN Charter, on non-interference, and at its new scale, it represents a threat to international peace and security. It deserves serious discussion in multilateral forums, including the UN, Alexander said. 
Turning the corner on this issue will require a concerted show of will and much tougher action in the eyes of the new storm of violence in North Waziristan and Baluchistan. PTI