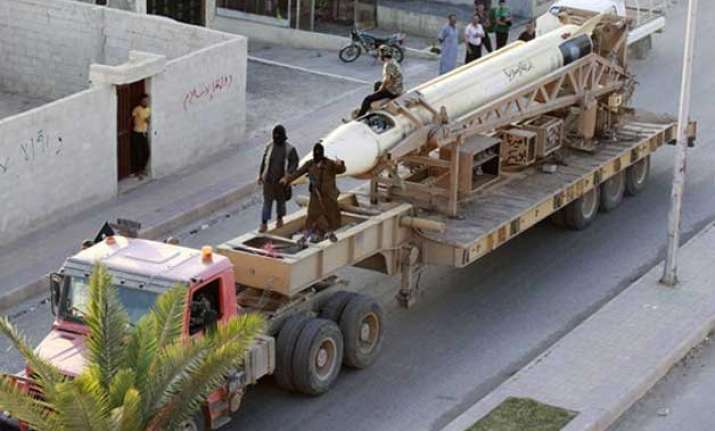 Chisinau (Moldova): Over the pulsating beat at an exclusive nightclub, the arms smuggler made his pitch to a client: 2.5 million euros for enough radioactive cesium to contaminate several city blocks.
It was earlier this year, and the two men were plotting their deal at an unlikely spot: the terrace of Cocos Prive, a dance club and sushi bar in Chisinau, the capital of Moldova.
"You can make a dirty bomb, which would be perfect for the Islamic State," the smuggler said. "If you have a connection with them, the business will go smoothly."
But the smuggler, Valentin Grossu, wasn't sure the client was for real — and he was right to worry. The client was an informant, and it took some 20 meetings to persuade Grossu that he was an authentic Islamic State representative. Eventually, the two men exchanged cash for a sample in a sting operation that landed Grossu in jail.
The previously unpublicized case is one of at least four attempts in five years in which criminal networks with suspected Russian ties sought to sell radioactive material to extremists through Moldova, an investigation by The Associated Press has found. One investigation uncovered an attempt to sell bomb-grade uranium to a real buyer from the Middle East, the first known case of its kind.
In that operation, wiretaps and interviews with investigators show, a middleman for the gang repeatedly ranted with hatred for America as he focused on smuggling the essential material for an atomic bomb and blueprints for a dirty bomb to a Middle Eastern buyer.
In wiretaps, videotaped arrests, photographs of bomb-grade material, documents and interviews, AP found that smugglers are explicitly targeting buyers who are enemies of the West. The developments represent the fulfillment of a long-feared scenario in which organized crime gangs are trying to link up with groups such as the Islamic State and al-Qaida — both of which have made clear their ambition to use weapons of mass destruction.
The sting operations involved a partnership between the FBI and a small group of Moldovan investigators, who over five years went from near total ignorance of the black market to wrapping up four sting operations. Informants and police posing as connected gangsters penetrated the smuggling networks, using old-fashioned undercover tactics as well as high-tech gear from radiation detectors to clothing threaded with recording devices.
But their successes were undercut by striking shortcomings: Kingpins got away, and those arrested evaded long prison sentences, sometimes quickly returning to nuclear smuggling, AP found.
For strategic reasons, in most of the operations arrests were made after samples of nuclear material had been obtained rather than the larger quantities. That means that if smugglers did have access to the bulk of material they offered, it remains in criminal hands.
The repeated attempts to peddle radioactive materials signal that a thriving nuclear black market has emerged in an impoverished corner of Eastern Europe on the fringes of the former Soviet Union. Moldova, which borders Romania, is a former Soviet republic.
Moldovan police and judicial authorities shared investigative case files with the AP in an effort to spotlight how dangerous the black market has become. They say a breakdown in cooperation between Russia and the West means that it is much harder to know whether smugglers are finding ways to move parts of Russia's vast store of radioactive materials.
"We can expect more of these cases," said Constantin Malic, one of the Moldovan investigators. "As long as the smugglers think they can make big money without getting caught, they will keep doing it."
The FBI and the White House declined to comment. The U.S. State Department would not comment on the specifics of the cases.
"Moldova has taken many important steps to strengthen its counter nuclear smuggling capabilities," said Eric Lund, spokesman for the State Department's bureau in charge of nonproliferation. "The arrests made by Moldovan authorities in 2011 for the attempted smuggling of nuclear materials is a good example of how Moldova is doing its part."
Wiretapped conversations exposed plots that targeted the United States, the Moldovan officials said. In one case, a middleman said it was essential the smuggled bomb-grade uranium go to Arabs, said Malic, an investigator in all four sting operations.
"He said: 'I really want an Islamic buyer because they will bomb the Americans.'"
"HAVE YOU EVER HEARD OF URANIUM?"
Malic was a 27-year-old police officer when he first stumbled upon the nuclear black market in 2009. He was working on a fraud unit in Chisinau, and had an informant helping police take down a euro counterfeiting ring stretching from the Black Sea to Naples, Italy.
The informant, an aging businessman, casually mentioned to Malic that over the years, contacts had periodically offered him radioactive material.
"Have you ever heard of uranium?" he asked Malic.
Malic was so new to the nuclear racket that he didn't know what uranium was, and had to look it up on Google. He was horrified — "not just for one country," he said, "but for humanity."
"Soon after, the informant received an offer for uranium. At about that time, the U.S. government was starting a program to train Moldovan police in countering the nuclear black market, part of a global multi-million dollar effort.
In Malic's first case, three people were arrested on Aug. 20, 2010, after a sample of the material, a sawed-off piece of a depleted uranium cylinder, was exchanged for cash. That kind of uranium would be difficult to turn into a bomb.
Authorities suspected, but couldn't prove, that the uranium had come from the melted down Chernobyl reactor in Ukraine, Malic said.
Malic transported the seized radioactive material in a matchbox on the passenger seat of his car. It did not occur to him that the uranium should have been stored in a shielded container to protect him from possible radiation.
When FBI agents came to collect it, they were stunned when he simply proffered the matchbox in his uncovered hand: "Take it," Malic said.
"Madman!" the American officers exclaimed.
The uranium, fortunately, turned out not to be highly toxic.
PLUTONIUM FOR FREE
Several months later, a former KGB informant, Teodor Chetrus, called Malic's source, the Moldovan businessman. Chetrus told him he had uranium to sell, but was looking for a Middle Eastern buyer.
Unlike Malic's first case, this one involved highly enriched uranium, the type that can be used to make a nuclear bomb.
Smarter and more cautious than the members of the previous gang, Chetrus was a bit of a paradox to the investigators. He was educated and well dressed, yet still lived in his dilapidated childhood farmhouse in a tiny village on Moldova's border with Ukraine.
In many of the smuggling cases, the ringleaders insulated themselves through a complex network of middlemen who negotiated with buyers in order to shield the bosses from arrest. In this case, Chetrus was the go-between.
But he had his own agenda. Chetrus clung to a Soviet-era hatred of the West, Malic said, repeatedly ranting about how the Americans should be annihilated because of problems he thought they created in the Middle East.
"He said multiple times that this substance must have a real buyer from the Islamic states to make a dirty bomb," Malic said.
Chetrus and the informant hammered out a deal to sell bomb-grade uranium to a "buyer in the Middle East" over months of wiretapped phone calls and meetings at Chetrus' house.
The informant would show up with a recording device hidden in a different piece of clothing each time. On the other side of the road would be Malic, disguised as a migrant selling fruit and grains from a van — watching the house for signs of trouble.
In one early phone call, the informant pressed Chetrus to find out whether he had access to plutonium as well as uranium, saying his buyer had expressed interest, according to wiretaps. But Chetrus was suspicious, and insisted that before big quantities of either substance could be discussed, the buyer had to prove that he was for real and not an undercover agent.
Chetrus' boss decided to sell the uranium in installments, starting with a sample. If the buyers were plants, he reasoned, the police would strike before the bulk of the uranium changed hands — an acceptable risk.
"I have to tell you one thing," Chetrus told the informant in a wiretapped phone call. "Intelligence services never let go of the money."
Eventually they worked out the terms of a deal: Chetrus would sell a 10-gram sample of the uranium for 320,000 euros ($360,000). The buyer could test it and if he liked what he saw, they could do a kilogram a week at the same rate — an astonishing 32 million euros every time until the buyer had the quantity he wanted. Ten kilograms of uranium was discussed — about a fifth of what was used over Hiroshima.
The two later met in the dirt courtyard of Chetrus's house to discuss plutonium. The informant had a video camera hidden in his baseball cap. Chetrus can be seen in an army-green V-neck, talking animatedly as a rooster squawks in the background.
"For the plutonium," Chetrus said, "if they prove they are serious people, we will provide the sample for free. You can use a small amount to make a dirty bomb."
He spread his hands wide. Then waved them around, as if all before him was laid to waste.
Malic found the video chilling. "I was afraid to imagine what would happen if one of these scenarios happened one day."