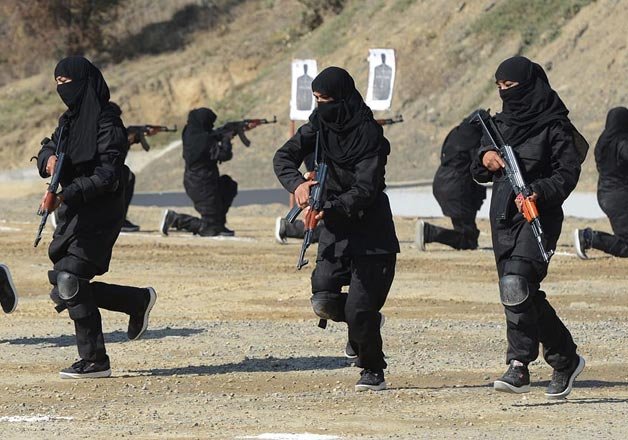 Islamabad: Clad in black burkhas or niqab, strapped with fierce automatic weapons and engaging in combat training in extreme weather is what the new-day Pakistan is now experiencing.
Female commandos fought at front-line in many countries but now the same is happening in Islamic nation of Pakistan, too where women are taking their security in their own hands.
The gruelling long-hour training and work hours are exhausting but women commandos' have realized their importance to step forward to shield their country's men and women from danger.
 "It is an obligation of every Muslim to protect other Muslims," told the 22-year-old Gul Nisa from the restive Tank district to NBC News.
"The situation in our country is very bad, that's why we should all play a role in improving it" said Gul when asked why she chose to dawn the uniform.
In most of the Islamic nation women are not treated par with their male counterpart, socially as well as legally. In fact the very idea of a Muslim woman working outside her homes may seem blasphemous to a majority in Muslim society.
As a result, the presence of women commandos did not go unnoticed whenever they come in picture.
Last year in November a photo of a Pakistani woman commando went viral on the internet. The photo showed female commando guarding the Indian Sikhs as they arrive at Wagha railway station for a religious tour.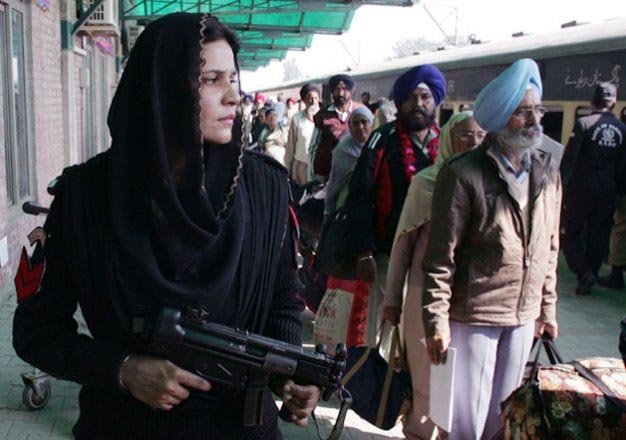 Pakistani women, however, have long looked squarely in the face of local traditions and defied them, excelled in military training and engaged in safeguarding their nation.
In fact, it was in 1994 when the first women-only police station opened in Rawalpindi.
The initiative was headed by the former Prime Minister Benazir Bhutto and since then same has happened in Abbottabad, Peshawar, Lahore, Multan and Karachi, too. Since the days of Bhutto, who still holds the distinction of being only woman to become head of a state in an Islamic nation, women in uniforms has come a long way.
Pakistan, as of now, has nearly 14 police training schools spread out all over the country where women commandos receive martial arts training and eventually get recruited in different anti-terrorist forces. Punjab, Sindh, Baluchistan and Khyber Pakhtunkwha are among those cities. 
Recently, four women teachers were placed at the entry gates of Bacha Khan University, in Charsadda, which re-opened on Monday nearly after 26 days from a Taliban led terrorist attack.
However, these women teachers are doing more than merely standing at the gate.
Each of the four women have been allowed to carry licensed firearms and given the authority to deal with matters of security by ensuring protection to the returning students, most of who are still shaken by what had transpired.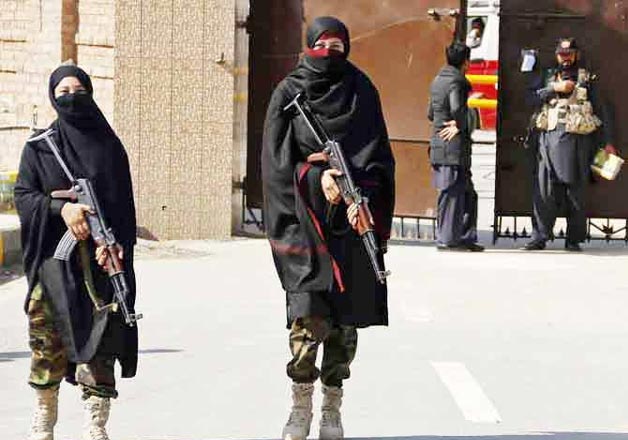 The attack, which took place on a cold, foggy January morning, took the lives of over 20 students and teachers.
Women commandos are not just known for their commitment of maintaining their nation's peace but also for what difference they bring to the table.
"They are mothers, sisters and daughters but we need them to be commandos too. They bring a different temperament to the Anti Terrorist Squad (ATS), and are very effective and committed to combating terrorism in our country" told DSP Akram Jappa, who recruits women for Islamabad Police's ATS squad, to PakistanTribune. 
Video: