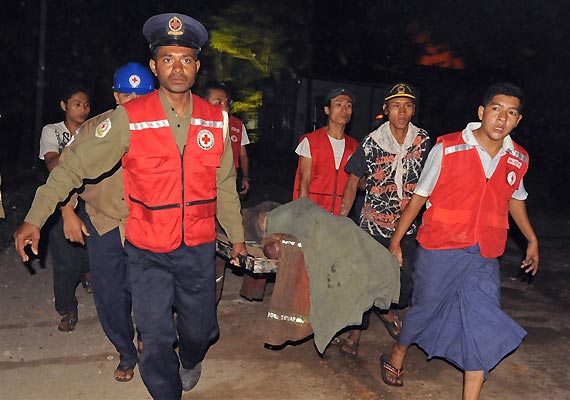 Yangon, Jul 22: A small explosion went off near a firebrand monk as he was giving a sermon in Myanmar's second-largest city, wounding five people, police and witnesses said Monday.
The blast occurred at around 9 p.m. Sunday during a Buddhist ceremony in Mandalay.
Ashin Wirathu—a monk accused of inciting violence with speeches warning that members of the country's minority Muslim community pose a threat to Buddhist culture and traditions—was unharmed.
"It wasn't a loud explosion," said Ma Sandar, a 35-year-old witness. "But it caused some commotion."
Many people left, she added, but the monk continued on with his sermon.
Wirathu, leader of the fundamentalist Buddhist group, 969, has called for a boycott of all Muslim-owned shops and is pushing for a law that would restrict marriages between Buddhist women and Muslim men.
Soaring birthrates, he has warned, mean that Muslims, who today make up just 4 percent of the population, could one day become a majority in this predominantly Buddhist nation of 60 million people.
His sermons have been largely blamed for violence by Buddhist mobs that have left more than 250 people dead—most of them Muslims—and sent another 140,000 fleeing their homes in the last year.
A police officer, who asked to remain anonymous because he was not authorized to speak to the media, said Sunday night's explosion went off under a parked car. Wirathu was about 60 feet (18 meters) away at the time.
Five people were being treated at a local hospital with minor injuries, the officer said.
There was no claim of responsibility and Wirathu could not be reached for comment Monday.