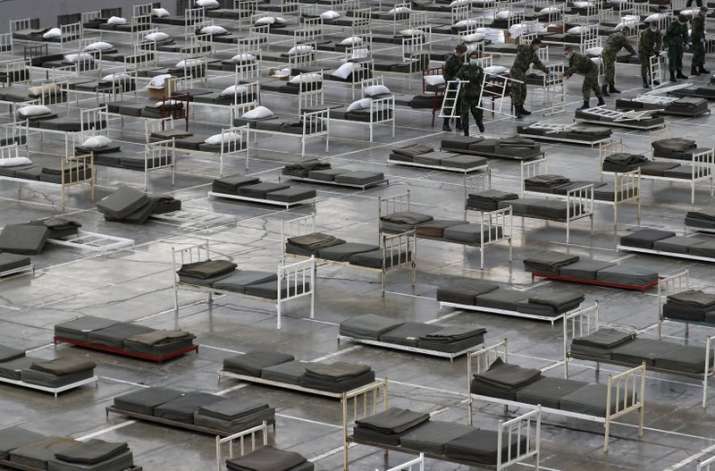 The total number of coronavirus positive cases across the globe crossed 8 lakh on Tuesday while 38,748 fatalities were reported. With 164, 359 cases, the US is leading the chart, followed by Italy, Spain, China, Germany, Iran, France, the UK, Switzerland, Belgium and more. More than 960 new deaths have been reported worldwide. Out of these, 169,993 have recovered while 592,320 are active cases.
Italy has seen 101,739 COVID-19 cases so far with 11,591 deaths. On the other hand, Spain figures third on the list with 94417 cases and 8,189 deaths. Following them are China, Germany, Iran, France, UK, Switzerland and Belgium.
Meanwhile, India reported the sharpest single-day spike with 227 coronavirus positive cases on Monday. At least 25 fresh cases were seen in Delhi alone. 
Countries with the highest tally of Coronavirus cases
| Country,Other | Total Cases | New Cases | Total Deaths | New Deaths | Total Recovered | Active Cases | Serious, Critical | Tot Cases 1M pop | Deaths/ 1M pop | Reported 1st  case |
| --- | --- | --- | --- | --- | --- | --- | --- | --- | --- | --- |
| World | 801,061 | +16,346 | 38,748 | +965 | 169,993 | 592,320 | 30,289 | 102.8 | 5.0 | Jan 10 |
| USA | 164,359 | +515 | 3,173 | +17 | 5,507 | 155,679 | 3,512 | 497 | 10 | Jan 20 |
| Italy | 101,739 |   | 11,591 |   | 14,620 | 75,528 | 3,981 | 1,683 | 192 | Jan 29 |
| Spain | 94,417 | +6,461 | 8,189 | +473 | 19,259 | 66,969 | 5,607 | 2,019 | 175 | Jan 30 |
| China | 81,518 | +79 | 3,305 | +5 | 76,052 | 2,161 | 528 | 57 | 2 | Jan 10 |
| Germany | 67,051 | +166 | 650 | +5 | 13,500 | 52,901 | 1,979 | 800 | 8 | Jan 26 |
| Iran | 44,605 | +3,110 | 2,898 | +141 | 14,656 | 27,051 | 3,703 | 531 | 35 | Feb 18 |
| France | 44,550 |   | 3,024 |   | 7,927 | 33,599 | 5,056 | 683 | 46 | Jan 23 |
| UK | 22,141 |   | 1,408 |   | 135 | 20,598 | 163 | 326 | 21 | Jan 30 |
| Switzerland | 16,176 | +254 | 373 | +14 | 1,823 | 13,980 | 301 | 1,869 | 43 | Feb 24 |
| Belgium | 12,775 | +876 | 705 | +192 | 1,696 | 10,374 | 1,021 | 1,102 | 61 | Feb 03 |
Source: Worldometer