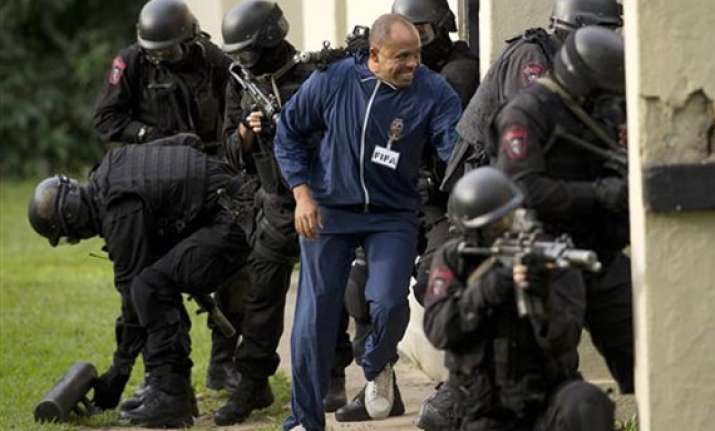 Rio de Janeiro, May 28: Brazilian Navy Marines took part in security drills at a naval base near Rio de Janeiro on Monday, to prepare for security operations ahead of the Confederations Cup in June.
Media were invited to watch the exercises, which also form part of the Navy's preparation for Pope Francis' visit in July.
The marines simulated separating fights between large opposing groups of football fans by using their "Shock" battalion.
The drill also showcased a variety of non-lethal weapons, from pepper spray to tasers, that can be used when group fights or protest disturbances occur.
The marines also showed the media how rubber bullets would be fired in those situations.
Exercises with sniffer dogs also took place.
Navy Commander Rogerio Lage said the Brazilian Navy was working with special operations battalions from the US to ensure they were trained in the most up-to-date procedures.
"We are frequently updating ourselves in terms of procedures especially with nations that effectively use their armed forces in this type of event," he said.
Lage added that the lessons learnt from the recent Boston marathon bombing attacks were also being used in the training.
The marines also simulated a hostage situation where an athlete had to be rescued, a similar situation to that which occurred when 11 Israeli Olympic athletes were taken hostages and killed at the 1972 Olympic Games in Munich by Palestinian gunmen.