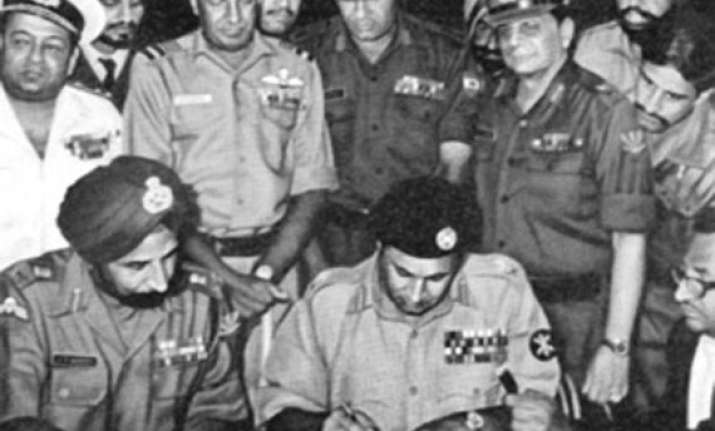 Dhaka, Mar  24 : Bangladesh honoured late Lt Gen Jagjit Singh Aurora, the late CPI-M leader Jyoti Basu  and other distinguished foreign nationals for their support and active role in the country's 1971 liberation war at a glittering award ceremony  here today.
Prime Minister Sheikh Hasina gave away the awards at the function where 69 foreign nationals got the special awards for their contributory roles during the country's liberation struggle.
Awards were given to the recipients from various nations in the presence of Bangladesh's top political leadership and distinguished luminaries.
Some of the recipients included Japanese academician and social worker Tomio Mizokami and the late Lt Gen Jagjit Singh Aurora, whose award was accepted on his behalf by Lt Gen  (retd) Mohinder Singh.
They were awarded the honour titled 'Friends of Liberation War Honour.'
The late Lt Gen Aurora was the General Officer Commanding-in-Chief of Indian Army's Eastern Command, and had accepted the surrender of 95,000 Pakistani soldiers from Pakistani commander Lt Gen A A K Niazi at a historic ceremony in Dhaka on December  16, 1971.
Apart from Aurora, former Chief Minister of West Bengal  the late Jyoti Basu was also given the honour posthumously.
Prime Minister Hasina specially thanked the various foreign nationals for their unconditional support which they gave to Bangladesh.
"When the liberation war was going on, many people from foreign shores sympathised with the cause of our people, and extended their hands of support to the suffering and wronged people of our nation. Today to honour them on this occasion, today this function has been held so that we can express our heartfelt thanks to them for their love and support," she said.
Cuban revolutionary leader and former President Fidel Castro and former British Prime Minister Lord Harold Wilson were also awarded special 'Liberation War Honour', which were accepted by delegates from their countries on their behalf.