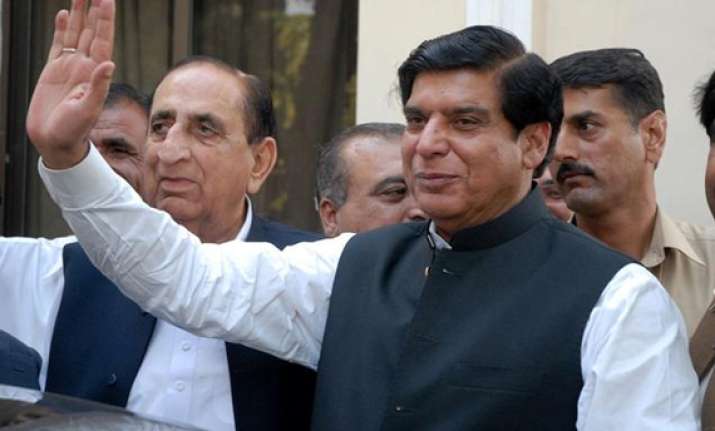 Islamabad, Jun 26:
Fifteen lawmakers of the PML-Q, a key ally of the ruling Pakistan Peoples Party, were today included in new Prime Minister Raja Pervez Ashraf's council of ministers.
In a separate development, PML-Q leader Chaudhry Pervaiz lahi has been appointed as the Deputy Prime Minister with mmediate effect and until further orders.
The move will not confer on him "any powers of the Prime inister in any manner whatsoever", said a notification issued by the Cabinet Division.
President Asif Ali Zardari administered oath of office to the 15 new ministers during a ceremony held at the presidency this evening.
Eight lawmakers were inducted as federal ministers while seven were inducted as inisters of state.
Sardar Bahadur Khan Sehar, Liaquat Abbas Bhatti, Sardar Talib Hussain Nakai, Sheikh Waqas Akram, Anwar Ali Cheema, Ghous Bukhsh Mehr, Jam Muhammad Yousaf and Chaudhry Wajahat Hussain took oath as federal ministers.
Rana Asif Tauseef, Malik Nauman Ahmed Langrial, Sardar Shahjehan Yousaf, Senator Saeed Khan Mandokhel, Chaudhry Ghias Ahmed Mela, Akram Masih Gill and Khawaja Sheraz Mehmood were inducted as ministers of state.
Prime Minister Ashraf, PML-Q chief Chaudhry Shujaat Hussain, Balochistan Chief Minister Aslam Raisani and cabinet members attended the ceremony.
On June 23, a total of 38 lawmakers had been sworn in as ministers along with Ashraf. While 27 were inducted as federal ministers, another 11 were sworn in as ministers of state.
The total strength of the council of ministers now is 53.