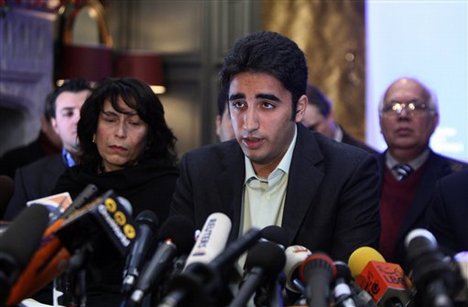 On a day when the United States has suspended its USD 255 million military aid to Islamabad, Pakistan Peoples Party (PPP) chairman Bilawal Bhutto Zardari has hit out at US president Donald Trump by saying that his country is no longer interested in defeating terrorism.
In a series of tweets, former prime minister Benazir Bhutto's son Bilawal said that Pakistan will eradicate extremism because it's in their interest not because Donald Trump has said so.
"We will eradicate extremism because it's in our interest not because of what @realDonaldTrump says. We will not allow the #US to scapegoat #Pakistan for its own failures in the region", the PPP president said.
"Someone please explain to @realDonaldTrump difference between coalition support fund reimbursement for work done & USaid ostensibly given for humanitarian reasons, to win hearts & minds.Cutting off moneys owed for assistance already rendered does not encourage further cooperation."
"Pakistan needs to articulate & implement a counter violent extremism strategy not because of what the US wants but because we need to succeed. to survive. We also have to come to terms with the fact, US is no longer interested in defeating terrorism."
"The US just wants to 'win' in Afghanistan/Iraq/Syria & the many quagmires they are involved with. No plan to get out. All they are left with is excuses, blame games and denial."
"Only the #PPP has experience in handling both the US & our own domestic terrorism issue. In our last government we launched Pakistan's first, most extensive and most successful anti-terror operations. We also shut NATO supplies & air bases until the US apologied for Salala," he added.
Earlier, US President Donald Trump accused Pakistan of giving nothing to the US but "lies and deceit" and providing "safe haven" to terrorists in return for USD 33 billion aid over the last 15 years. "They give safe haven to the terrorists we hunt in Afghanistan, with little help. No more!" Trump said, clearly indicating that Pakistan would no longer receive any security aid from the US till the time it sees a change in behaviour from them in fight against terrorism."