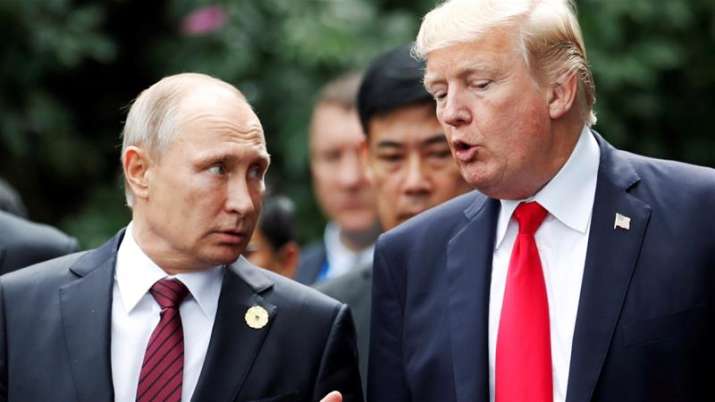 US Secretary of State Mike Pompeo said the summit between President Donald Trump and his Russian counterpart Vladimir Putin should proceed even as the political fallout continues over the indictments of 12 Russian military intelligence officers.
Despite calls by top Democrats in Congress for Trump to cancel the meeting scheduled to take place in Finland on Monday, Pompeo told reporters: "I think it's very important that they meet," CNN reported late Saturday.
"I am confident that President Trump's meeting with Vladimir Putin will put America in a better place," Pompeo said.
Trump plans to meet one-on-one with Putin at the start of their first formal summit talks in Helsinki, Finland, before allowing other aides to participate.
Senior Senate Democrats sent a letter on Saturday to Trump urging him not to meet Putin alone.
"Putin is a trained KGB intelligence veteran who will come to this meeting well-prepared," they wrote. 
"As the Kremlin said last week, a one-one-one meeting with you 'absolutely suits' him. There must be other Americans in the room."
The letter was signed by Minority Leader Chuck Schumer, who was among those who on Friday called on Trump to cancel the summit, and the top Democrats on the Senate Intelligence, Armed Services, Foreign Relations and other national security-related committees, CNN reported.
The senators also demanded that Trump press for the extradition of the 12 Russian military intelligence officials who were indicted by special counsel Robert Mueller on Friday for hacking into Democrats' emails during the 2016 presidential campaign.
Speaking to reporters in the UK on Friday before the indictments became public, Trump pledged to raise the 2016 election meddling issue during his sit-down with Putin. 
But in a tweet on Saturday morning, Trump did not criticise Putin or condemn Russia's actions and blamed former President Barack Obama's administration's soft-pedaled actions over Russia's interference in the 2016 election.
"The stories you heard about the 12 Russians yesterday took place during the Obama Administration, not the Trump Administration," Trump wrote. 
"Why didn't they do something about it, especially when it was reported that President Obama was informed by the FBI in September, before the Election?"
Obama, however, personally warned Putin against messing with the election, imposed sanctions on Russian individuals and entities, kicked out 35 Russian diplomats and closed two of the Kremlin's compounds in the US.