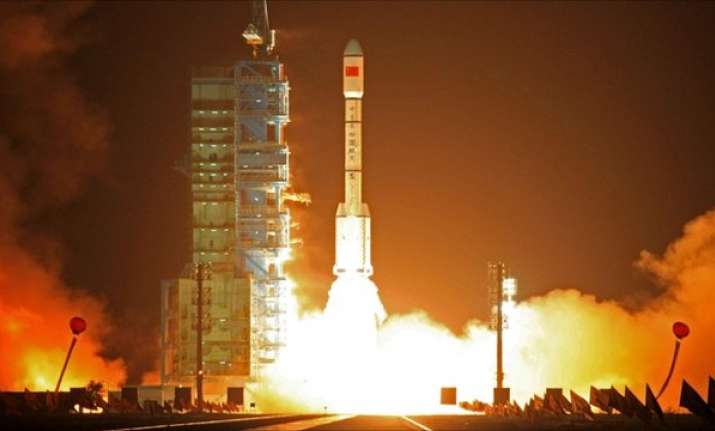 China invited Pakistani space scientists along with host of guests from Germany, France, Italy, Russia and the European Union (EU) to observe the launch of its manned space flight to send two astronauts to join a space lab which has been put into orbit, a media report said today. 
As per report, China has been helping Pakistan's space programme.
The scientists were invited to watch the launch of Shenzhou 11 capsule from Inner Mongolia next month, Hong Kong-based South China Morning Post reported.
The capsule will be propelled by a Long March 2F rocket similar to the one which put the experimental space lab Tiangong-2 into orbit last night without a hitch.
The Tiangong-2 launch was telecast live on state TV.
China has launched Pakistan's communication Satellite PAKSAT-1R in 2011.
Recent reports from Islamabad said that the two countries had signed an agreement to launch a remote sensing satellite in 2018 to monitor the $46 billion China-Pakistan Economic Corridor (CEPC).
The invitation to scientists from Germany, France, Russia and EU showed China's growing confidence in its space programme, a commentator on state-run CCTV said last night.
The two astronauts will spend 30 days in orbit on the lab, twice as long as the last crew on Tiangong 1, and conduct over 40 studies.
The experimental space lab was part of efforts by China to build its manned space station by 2022, the time when US-led International Space Station is expected to go out of service.
Also analysts say that the heavy rocket being used to lift large payload like the space lab also demonstrates China's growing prowess in missile and rocket technology.
Meanwhile state-run Xinhua news agency reported today that China's space lab Tiangong-2 may serve for over five years and coexist with China's first space station expected to crash to earth next year.
With a designed life of two years, Tiangong-2 was originally built as a backup to Tiangong-1, which completed its mission in March, Zhu Congpeng, chief designer of Tiangong-2 told Xinhua.
"But we expect Tiangong-2 to serve for more than five years given the introduction of an in-orbit propellant technique for the first time," Zhu said.
In April 2017, China's first cargo spaceship Tianzhou-1 will be sent into orbit to dock with the space lab, providing fuel and other supplies.
"If the fuel-supply experiment goes well, China will then become the second country after Russia to master the in-orbit propellant technique," Zhu said.
While in space, the 8.6-tonne space lab will maneuver itself into orbit about 393 kms above the Earth's surface.
As it is higher than past manned space missions, which were conducted at 343 kms the Tiangong-2 will be more cost-effective and have a longer lifespan, Zhu said.
Though it looks similar to Tiangong-1, Tiangong-2's interior living quarters and life support system have been improved to allow longer astronaut stays.