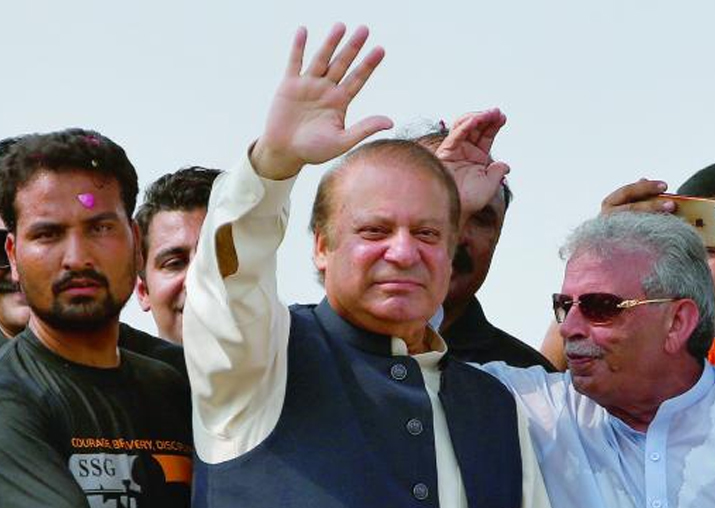 Disqualified Pakistan Prime Minister Nawaz Sharif today kicked off a mass contact campaign of the ruling party, Pakistan Muslim League-Nawaz (PML-N), from Abbottabad.
Addressing a rally of his supporters here, Sharif said that no decision of the court can weaken his relationship with the masses.
"The (large) number of people gathered here, and their support proves that no decision of the court can separate me and the people," he said.
The people, Nawaz Sharif added, expressed the same support for him in the 2013 general elections. 
"If someone thinks I will be defeated, then they are wrong. I am not one who is going to be defeated here," the former PM maintained.
With Sunday's rally, the deposed Prime Minister has kicked off his PML-N drive to reach out to the masses. Sharif was disqualified by the Supreme Court on July 28 following its landmark verdict in the Panama Papers case.
"Sit-ins were staged as soon as I assumed responsibilities as the Prime Minister," he said, adding, "However, we continued to remained engaged in development work."
Then, he added, the Panama "drama" was staged. "If I were a dictator, I would have disintegrated from you and left, but I promise not to leave you and I hope that the people gathered here won't leave me either."
On Saturday, the National Accountability Bureau, Lahore sent a reminder to the bureau's chairman, Justice (retd) Javed Iqbal, to initiate the process of placing the names of all accused in the Avenfield corruption reference on the Exit Control List (ECL).