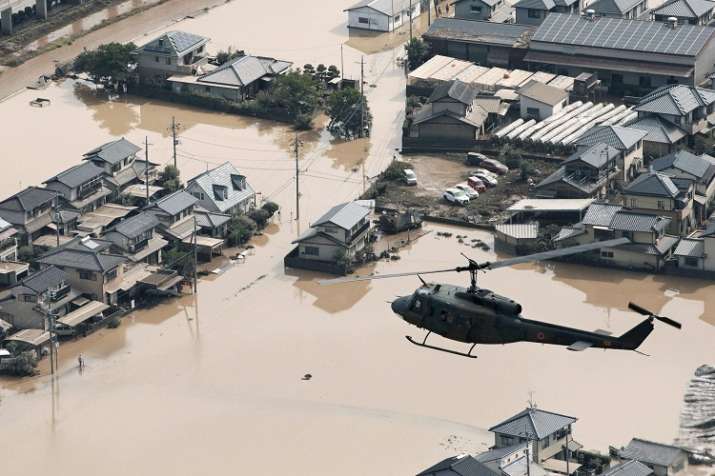 The death toll from devastating floods due to torrential rains in Japan has reached 141, confirmed media reports quoting a top government spokesman on Tuesday. Fire departments, police and the military are scouring the affected areas as the search for the missing continues.
The Fire and Disaster Management Agency has confirmed that the rains, that started on July 5, have stopped and the emergency rain warnings in the country have been lifted.
"We will unite and move swiftly to deliver those necessities to the disaster victims by coordinating closely with local government," said Prime Minister Shinzo Abe in a meeting with the disaster response task force, also noting "the future need" to improve evacuation centres and temporary housing.
The heavy rains have caused rivers to overflow and buildings have been crushed by landslides. Thousands of houses have been damaged.
Also Read | 100 dead due to heavy rains, mudslides in western Japan
Heavy rains and floods in Japan have disrupted electricity supply to nearly 17,000 households and phone lines across multiple prefectures are down. Two million people have been forced to leave their homes.
About 73,000 personnel have been mobilised for search-and-rescue efforts.
Ehime and Hiroshima prefectures remain the hardest hit, though nine others have also been heavily impacted.