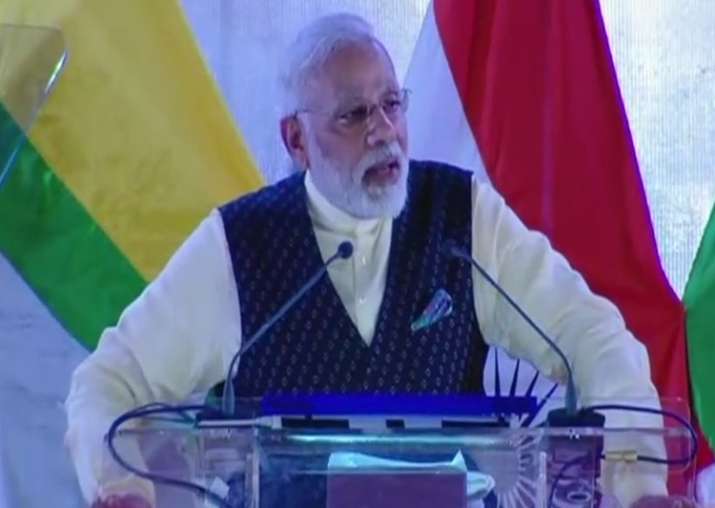 Prime Minister Narendra Modi today addressed the Indian diaspora in Myanmar's Yangon city. During his 40-minute long speech, Modi said that 'people to people ties are the strength of India-Myanmar relations'.
The Prime Minister announced that soon 40 Myanmar fishermen lodged in Indian jails will be released. 
Lauding the works of External Affairs Minister Sushma Swaraj works, he said, "She is sensitive to the concerns of every Indian in any part of the world and is always ready to help."
This is Modi's first bilateral visit to Myanmar. He had visited the country in 2014 to attend the ASEAN-India Summit. The Myanmarese President and Suu Kyi had visited India last year. Myanmar is one of India's strategic neighbours and shares a 1,640-km-long border with a number of northeastern states including militancy-hit Nagaland and Manipur.
Here are the highlights of his speech: 
# India is seen as a thought leader on the global stage.
# People of India have the confidence that India can be transformed and we can break free from some of the evils that entered our systems.
# GST is ushering in a new culture across the nation.
# After demonetisation, lakhs of people have been identified who had crores in bank accounts but never paid income tax.
# We have not shied away from taking decisions that are tough. For us, the nation is bigger than politics.
# Infraculture is important. By infraculture I mean quality infrastructure that benefits our farmers.
PM @narendramodi pledges to build New India by the time India turns 75 in 2022. pic.twitter.com/dizJLa1FYJ

— Raveesh Kumar (@MEAIndia) September 6, 2017
# Good infrastructure is not longer about roads & rail only...it includes several other aspects that bring a qualitative change in society.
# An India free from poverty, terrorism, corruption, communalism, casteism is being created.
# We are not merely reforming India but are transforming India. A new India is being built.
# Global recognition of Yoga is the achievement of the diaspora, which took Yoga all over the world.