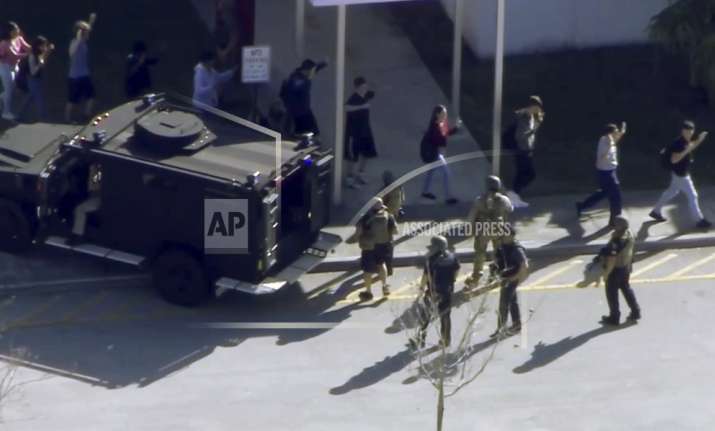 At least 17 people died after a former student opened fire at a South Florida high school on Wednesday, sending students running out into the streets and SWAT team members swarming in before authorities took the shooter into custody. Authorities have identified the suspect in the shooting as 19-year-old Nikolas Cruz.
"My prayers and condolences to the families of the victims of the terrible Florida shooting. No child, teacher or anyone else should ever feel unsafe in an American school," US President Donald Trump tweeted soon after the incident.
WHAT WE KNOW SO FAR:
1. The gunman was identified as Nicolas Cruz by a US official briefed on the investigation. Cruz, a former student at Marjory Stoneman Douglas High School in Parkland, is in custody. As per reports, the suspect was previously expelled for disciplinary reasons.
2. The office of Sheriff Scott Israel says Cruz was arrested after the attack on a Parkland, Florida.
3. President Donald Trump has spoken with Florida Gov. Rick Scott about the shooting. He says in a tweet that the White House is "working closely with law enforcement on the terrible Florida school shooting." He earlier tweeted his condolences to the families of the victims.
4. Sen. Bill Nelson of Florida says the shooter in the attack on a high school in his state wore a gas mask and had smoke grenades.
5. Broward hospital officials said three people at Broward Health North hospital remained critical following a school shooting in Florida.
6. Doctors say they treated the suspected gunman and sent him back into police custody.
7. "It is a horrific situation," said Robert Runcie, superintendent of the school district in Parkland, about an hour's drive north of Miami. "It is a horrible day for us."
8. The shooting was the latest in a deadly series of attacks at US schools.