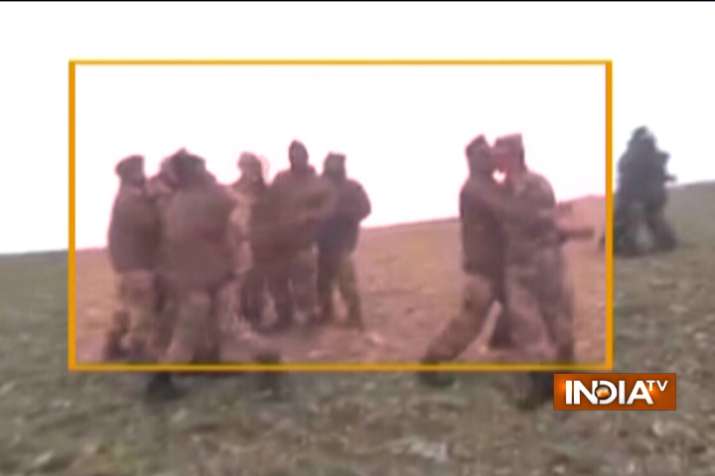 Reacting sharply to Indian envoy Gautam Bambawale's remarks in which he had warned Beijing against any attempt to change the present state of affairs in Doklam, China today said that it was a "Chinese territory" adding there is no such thing as changing the status quo in the area.
The Indian envoy, in an interview to South China Morning Post, had said that any attempt on part of China to change the status quo in Doklam would lead to another stand-off. 
"Regarding the border issue, China is committed to maintaining peace, stability and tranquillity there and Donglang (Doklam) belongs to China as we have historical conventions. So China's activity there is within its sovereign rights. There is no such thing as changing the status quo," Chinese Foreign Ministry spokesperson Hua Chunying said.
Hua Chunying pointed out that the diplomatic efforts and wisdom of China and India had properly resolved the Doklam standoff last year. 
"We hope the Indian side could learn some lessons from this, stick to historical conventions and work with China to ensure the peace and stability in the border area as well as a good atmosphere for the development of bilateral ties," Hua added.
The Indian  ambassador, in his interview , had said that  both India and China were well within their rights for an Army build up behind the point of the face-off and the status quo in Doklam remained in place.
Asked about Bambawale's comments that the 3488-km long Line of Actual Control (LAC) should be demarcated and delineated, the Foreign Ministry spokesperson said China's position is clear and consistent on the delimitation . 
"China's position is clear and consistent. The east, middle and western side is yet to be officially demarcated. China is committed to resolving the relevant dispute through negotiations." 
 "China is committed to resolving the disputes through negotiations. China and India are exploring ways to resolve this territorial dispute through negotiations so that we can arrive at mutually acceptable solution," she said, referring to the boundary talks between the two countries. 
"We share similar national conditions, development goals as well as common interests".
"We have every reason to be each other's partners. So we would like to work with India to enhance political trust and mutually beneficial cooperation under the guidance of two leaders (Indian Prime Minister Narendra Modi and Chinese President Xi Jinping) to achieve the common development," said Hua.
The long-winding India-China border has three sectors: the western sector between Ladakh and the Chinese-held Aksai Chin; the central sector ranges from Uttarakhand and Tibet; the eastern sector divides Sikkim and Arunachal Pradesh from Tibet.
 
The two sides have so far held 20 rounds of boundary talks. 
"Pending final solution both sides should work together to maintain peace and tranquillity in the border area," she said. 
Hua, however, commended Bambawale's comments that India has no concern about China's rise and that China is not a competitor, rival or a threat but a partner in progress. 
"I commend these remarks made by the India ambassador and all these positive remarks. The two countries are growing at fast pace. China and India are each other's important opportunities and to the whole world we present important opportunities," she said. 
India and China were locked in a 73-day stand-off at Doklam in the eastern section of their border.
The crisis erupted after Indian troops halted road construction at Doklam in the region, citing Bhutan's claim to the area.
Doklam is very close to India's artery which connects its northeast with the rest of the country. The stand-off was resolved in August. 
(With agency inputs)