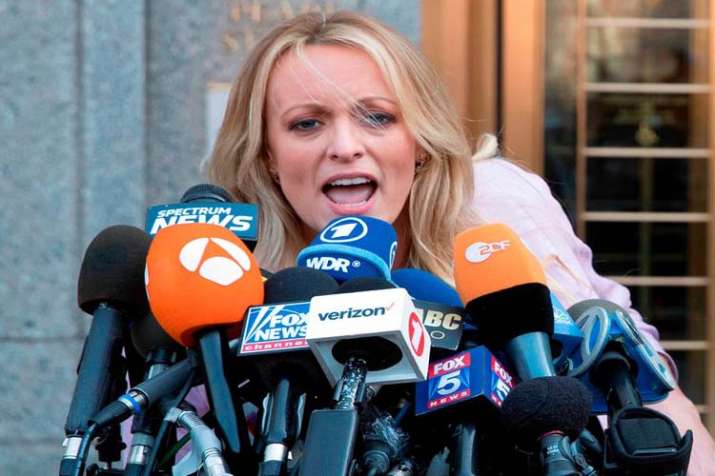 Adult film star Stormy Daniels, who claims that she had an affair with US President Donald Trump in 2006, has filed a lawsuit against the President for defamation.
In the complaint lodged with the US District Court for the Southern District of New York, Daniels, whose real name is Stephanie Clifford, claims that Trump had made 'false and defamatory' statements about her in an April 18 tweet.
In the lawsuit, Daniels claims that she was threatened in a Las Vegas parking lot by a man in 2011. Earlier on April 17, Clifford had released a drawing of a man whom she claimed warned her in 2011 to 'leave Trump alone'. 
After Clifford released the drawing, President Trump tweeted,"A sketch years later about a non-existent man. A total con job, playing the Fake News Media for Fools (but they know it)!
A sketch years later about a nonexistent man. A total con job, playing the Fake News Media for Fools (but they know it)! https://t.co/9Is7mHBFda

— Donald J. Trump (@realDonaldTrump) April 18, 2018
Daniels's lawyer, Michael Avenatti said that President Trump was well aware that Daniels would be subjected to threats of violence, economic harm and reputational damage.
Moments ago, we filed this lawsuit against Mr. Trump for his recent irresponsible and defamatory statements about my client @stormydaniels. He is well aware of what transpired and his complicity. We fully intend on bringing it to light. #buckleup #bastahttps://t.co/ZuBjI1EY9z

— Michael Avenatti (@MichaelAvenatti) April 30, 2018
"We intend on teaching Mr Trump that you cannot simply make things up about someone and disseminate them without serious consequences", Avenatti added.
Trump has denied allegations of the affair with Daniels. But last week, the president had acknowledged that his personal lawyer Michael Cohen had represented him in negotiations with the adult movie star.
Cohen too has admitted paying $ 130,000 to Daniels.
Trump is also facing a New York defamation lawsuit filed by a former contestant on the reality show 'The Apprentice', Summer Zervos. Zervos has accused Trump of unwanted sexual contact back in 2007 and sued him after he dismissed the claims as 'forged'. A judge had ruled that a lawsuit can possibly come forward in this case.