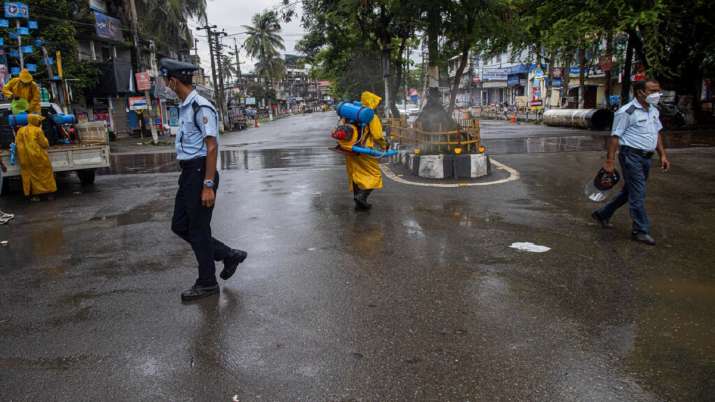 India coronavirus cases have crossed 9 lakh mark taking confirmed patients toll to 9,06,752, including 3,11,565 active cases, 5,71,460 recovered and 23,727 deaths, according to health ministry's figures released on Tuesday.
Meanwhile, with 1,246 new coronavirus cases and 40 deaths in the last 24 hours, the national capital recorded a total tally of 1,13,740 cases and 3,411 deaths till Monday.
According to Delhi government's daily health bulletin, as many as 91,312 people have recovered, more than four times the number of active cases which stand at 19,017. A total of 1,344 patients recovered in the last 24 hours.
On June 23, the city had witnessed the highest single-day peak of 3,947 cases, but the number has come down steadily since then despite the number of tests increasing.
Testing numbers in the city have also gone up since the commencement of rapid antigen tests last month. Over 3,860 RT-PCR and 8,311 rapid antigen Covid-19 tests were conducted on Monday.
State-wise list of coronavirus cases, deaths in India
| Name of State / UT | Active Cases* | Cured | Deaths** | Total Confirmed cases* |
| --- | --- | --- | --- | --- |
| Andaman and Nicobar Islands | 57 | 109 | 0 | 166 |
| Andhra Pradesh | 14274 | 16464 | 365 | 31103 |
| Arunachal Pradesh | 240 | 145 | 2 | 387 |
| Assam | 5876 | 10894 | 36 | 16806 |
| Bihar | 5482 | 12317 | 160 | 17959 |
| Chandigarh | 157 | 423 | 8 | 588 |
| Chhattisgarh | 996 | 3202 | 19 | 4217 |
| Dadra and Nagar Haveli and Daman and Diu | 226 | 268 | 1 | 495 |
| Delhi | 19017 | 91312 | 3411 | 113740 |
| Goa | 1026 | 1540 | 17 | 2583 |
| Gujarat | 10897 | 29770 | 2055 | 42722 |
| Haryana | 4984 | 16602 | 308 | 21894 |
| Himachal Pradesh | 292 | 940 | 11 | 1243 |
| Jammu and Kashmir | 4545 | 6095 | 187 | 10827 |
| Jharkhand | 1514 | 2351 | 33 | 3898 |
| Karnataka | 24576 | 16248 | 757 | 41581 |
| Kerala | 4032 | 4257 | 33 | 8322 |
| Ladakh | 146 | 946 | 1 | 1093 |
| Madhya Pradesh | 4336 | 13208 | 663 | 18207 |
| Maharashtra | 105935 | 144507 | 10482 | 260924 |
| Manipur | 656 | 970 | 0 | 1626 |
| Meghalaya | 250 | 66 | 2 | 318 |
| Mizoram | 82 | 151 | 0 | 233 |
| Nagaland | 505 | 340 | 0 | 845 |
| Odisha | 4412 | 9255 | 70 | 13737 |
| Puducherry | 665 | 785 | 18 | 1468 |
| Punjab | 2388 | 5586 | 204 | 8178 |
| Rajasthan | 5781 | 18630 | 525 | 24936 |
| Sikkim | 106 | 86 | 0 | 192 |
| Tamil Nadu | 48199 | 92567 | 2032 | 142798 |
| Telangana | 12177 | 23679 | 365 | 36221 |
| Tripura | 603 | 1475 | 2 | 2080 |
| Uttarakhand | 703 | 2856 | 49 | 3608 |
| Uttar Pradesh | 12972 | 24203 | 955 | 38130 |
| West Bengal | 11279 | 19213 | 956 | 31448 |
| Cases being reassigned to states | 2179 |   |   | 2179 |
| Total# | 311565 | 571460 | 23727 | 906752 |
ALSO READ | Karnataka lockdown: 10-day long shutdown in Dharwad, 7-day in Dakshina Kannada from Wednesday