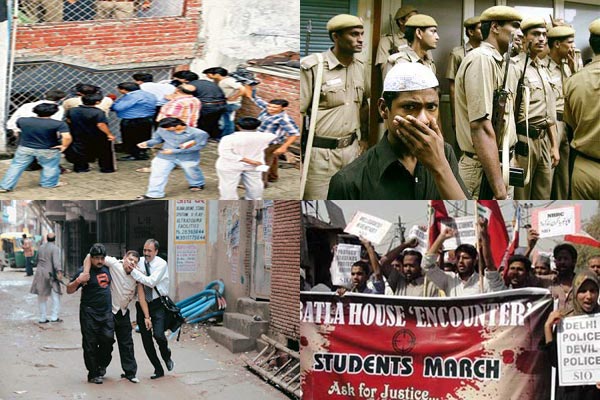 The main door was found bolted from inside, but the side door was   found   not   to   be   bolted   and   it   was   pushed.
Immediately,   the   team   members   went   inside   the   flat   in order to apprehend the suspects.  No sooner did the team entered  inside  the  flat,  the  occupants  of   the  flat   opened fire upon police party.   The team members also fired in self defence to apprehend the terrorists.   
In between, Sh. Sanjeev   Kumar Yadav,   ACP   NDR   alongwith   Inspector Ramesh   Chandra   Lamba,   SI   Bhoop   Singh,   SI   Harender Kumar, ASI Satish Kumar, ASI Shahjahan and other staff also   reached   at   the   spot.     During   the   cross   firing, Inspector Mohan Chand Sharma and HC Balwant Singh sustained   bullet   injuries.     
Two   militants   also   sustained bullet   injuries   in   cross   firing,   while   two   other   militantsmanaged to escape from the flat while firing on the police party.  
The injured police officers and the militants were immediately   removed   to   hospital.     One   of   the   militants namely Mohd. Saif, son of Sh. Shadab Ahmad, resident of Village   &   PO   Sanjarpur,   PS   Sarai   Meer,   Tehsil Nijamabad,   District   Ajamgarh   (UP)   surrendered   before the police party.  
The names of the escaped militants were revealed by Mohd. Saif as Junaid and Pappu.  During the cursory search of the flat, one A.K. Series rifle alongwith two   magazines   containing   30   live   rounds   each   was recovered from the far end right side room of the militants besides two pistols of .30 bore lying near the two injured militants.   The militants have obstructed the police party in discharging their official duties and fired with intent to kill the police officials.
"  
The complaint was endorsed by Inspector J.S. Joon, on the basis of which FIR No. 208/08 was registered in PS Jamia Nagar for offence punishable U/s 186/353/307/332/34 IPC and U/s 25 and 27 of The Arms Act.  
Apart   from   aforesaid   complaint,   one   Ovais   Malik, resident of House No. J­1/A, 4th Floor, Batla House set legal machinery into motion, by informing police control room, that he heard sound of firing between 10.30­11.15 am.  
During   investigation,   IO   Inspector   J.S.   Joon   found following articles lying in that flat:­   KF049MM22, 8 empty cartridges (fired)   having   marking   of  7.62/2S   S&B   and   three   empty   cartridges (fired) having marking of KF01A7 and 13 fired bullets.  
One A.K Series Rifle   alongwith two magazines and 60 live cartridges from right side bed   room   of   that   flat,   one   pistol   of   .30   bore   from   drawing  room alongwith one live cartridge in its chamber having marking of "CAL.30
A   case   titled   as   Hazari   Lal   Vs.   State   (Delhi Administration)   AIR   1983   SC   873 where   it   was   observed   by   the Supreme Court of India that evidence of a Police Officer laying trap if found reliable can be accepted without corroboration.