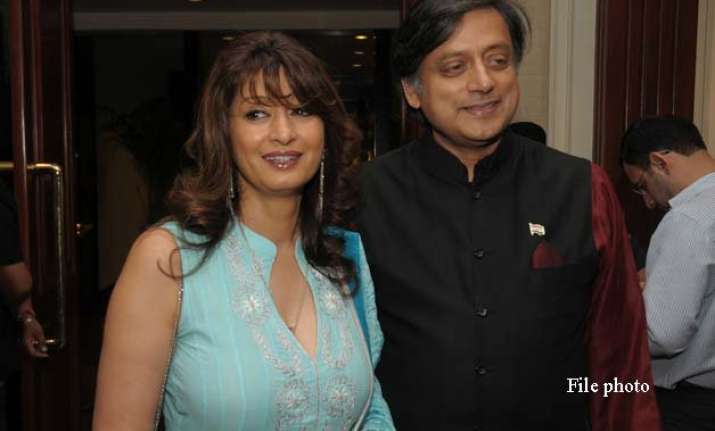 New Delhi: Moving ahead with their probe, the Delhi Police is in process of quizzing eight more persons in connection with mysterious death of Sunanda Pushkar, wife of former Union Minister and Congress MP Shashi Tharoor.
Sources said that the list comprises three politicians, an equal number of journalists and two businessmen. It is believed that all of them have spoken to Tharoor or Pushkar on January 16 and 17 last year.
Today, the Special Investigation Team (SIT) officials, looking into the case, will be interrogating journalist Rahul Kanwal.
"Have been summoned tomorrow (Thursday) morning by Delhi Police for questioning in the Sunanda Pushkar 'murder' case," Kanwal tweeted yesterday evening.
Kanwal will be asked about his conversation he purportedly had with Sunanda before her death, an official said, adding that two other women journalists will also be summoned shortly.
Sundna, 51, was found dead in a five-star hotel on January 17 last year. According to the FIR, on January 17 last year at about 9 PM a telephonic call was received by Inspector Atul Sood, the then SHO of Sarojini Nagar from Abhinav Kumar, PS to Tharoor, the then Minister of State of HRD that Sunanda had done something in Room No 345, Hotel Leela Palace, New Delhi. Acting on this information, Sood along with staff went to the spot where Sunanda was found dead inside the bedroom of the suite.
Meanwhile, police officials are trying to verify BJP leader Subramanian Swamy's claim that Sunanda had stepped out of Leela Hotel on January 16 and allegedly gone to a government-allotted bungalow in central Delhi.
Police are likely to question the person who was reportedly accompanying Sunanda when she left the hotel and said they have also got CCTV footage in this connection.
On Wednesday night, the Delhi Police had questioned Tharoor at the Anti Auto Theft Squad office in south Delhi's Vasant Vihar police station. Police sources said that the former Union Minister was 'relaxed' while answering the questions and spoke mostly in English.
Delhi Police Chief BS Bassi yesterday said that the Congress would be questioned once again whenever the SIT finds it appropriate.